Mystery, Beauty and Bewilderment in Islam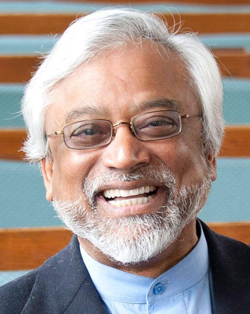 Jamal will offer reflections on the mystifying enigma of our sojourn on earth. We arrive here without any mission statement; none of our divine revelations come with footnotes. In the midst of strife and planetary degradation, God remains invisible and unknown and our afterlife is wrapped in mystery. Jamal will glean wisdom from the Qur'an, Hadith, and Sufi teachers to help make our shared journey meaningful, fulfilling and joyful.
Imam Jamal Rahman is a popular speaker on Islam, Sufi spirituality, and interfaith relations. Along with his Interfaith Amigos, he has been featured in the New York Times, CBS News, BBC, and various NPR programs. Jamal is co-founder and Muslim Sufi minister at Interfaith Community Sanctuary and adjunct faculty at Seattle University. He is a former co-host of Interfaith Talk Radio and travels nationally and internationally, presenting at retreats and workshops. Jamal's passion lies in interfaith community building. He remains rooted in his Islamic tradition and cultivates a "spaciousness" by being open to the beauty and wisdom of other faiths. Through an authentic and appreciative understanding of other paths, Jamal feels that he becomes a better Muslim and a more developed human being. This spaciousness is not about conversion, but about completion. Jamal is also an author of several books. Since 9/11 he has been collaborating with Rabbi Ted Falcon and Pastor Don Mackenzie. Affectionately known as the Interfaith Amigos, they tour the country sharing the message of spiritual inclusivity.