The Elixir of Life
Facilitator: Pablo Sender
Tuesdays, 7:00 - 8:30 p.m. CDT [UTC-5]
July 7 - September 22 (12 meeings)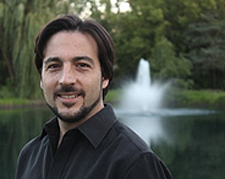 Walking the Theosophical Path is an online group focused on learning how to live the Theosophical teachings.
Starting on July 7, 2020, we will explore "The Elixir of Life," an article written in 1882 by an English disciple of the Masters of Wisdom. This article provides practical hints regarding the nature of the spiritual life and methods from an occult perspective.
Each session will cover the theory of the main topic and explain how it can be applied in daily life. Weekly exercises will be suggested and discussed to assist the participants' practice.
Pablo Sender, Ph.D., became a member of the Theosophical Society in his native Argentina and has presented Theosophical lectures, seminars, and classes around the world. He is the author of Evolution of the Higher Consciousness, and his articles have been published in several Theosophical journals. Learn more at his website: www.pablosender.com.
Registration includes on-demand access to recordings of all the meetings, which can be viewed for one week following the date they were presented.
Each quarter, it costs the TSA approximately $100 per person to facilitate and host this online study group. While we offer a sliding scale for fees, we encourage you to support the continuation of this group by making a donation of at least $100 per quarter, less than $10/week for this opportunity.
Program Format
This is a live, interactive online study group that will also be recorded for on-demand viewing. Our goal is to send recordings to you within two business days, often sooner. Recordings will be available for on-demand viewing for one week following each class date.
Software Platform
Zoom Meetings for Windows, Mac, or mobile device; minimum recommended network bandwidth 1.5 Mbps. Please download Zoom for free at zoom.us/download, and test your connection at zoom.us/test. Please email webinars@theosophical.org for further information.