Emotions and the Spiritual Path
Facilitator: Pablo Sender
Tuesdays, 7:00 - 8:30 p.m. CDT [UTC-5]
April 7 – June 23 New series starts April 7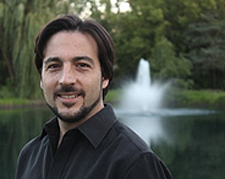 Walking the Theosophical Path is an online group focused on learning how to live the Theosophical teachings.
Starting on April 7, 2020, we will begin a new series exploring Emotions and the Spiritual Path, based on the writings of Annie Besant and C. W. Leadbeater, who propose practical ways to harmonize this important aspect of human nature. Each session will present the theory of the main topic and explain how it can be applied in daily life. Weekly exercises will be suggested and discussed to assist the participants' practice. Each meeting closes with meditation.
Pablo Sender, Ph.D., became a member of the Theosophical Society in his native Argentina and has presented Theosophical lectures, seminars, and classes around the world. He is the author of Evolution of the Higher Consciousness, and his articles have been published in several Theosophical journals. Learn more at his website: www.pablosender.com.
Registration includes access to recordings of the meetings.
$40 suggested donation (minimum fee $5)
If you are unable to pay the minimum fee due to hardship, please email webinars@theosophical.org for assistance.
Meeting Format
This is a live online study group that is also recorded for on-demand viewing. You may ask questions via the chat window or with your microphone; your webcam is not used. Our goal is to send recordings to you within two business days, often sooner.
Pablo reads and responds to emails regarding the previous week's exercise; the writer remains anonymous. (50 minutes)
Pablo plays a pre-recorded lecture in which he presents material related to the current topic via PowerPoint slides. The playback is paused for questions and comments. (15-20 minutes)
Jim Bosco conducts a guided meditation. (20 minutes)
The upcoming week's exercise is based on the lecture and is emailed to participants within two business days, often sooner.
Software Platform
Adobe Connect Meetings for Windows, Mac, Linux (limited support) or mobile device; minimum recommended network bandwidth 1.0 Mbps. If desired, you may install and test Adobe Connect for your computer here or download the Adobe Connect app for your mobile device. Please email webinars@theosophical.org for further information.