Facilitators: Pablo Sender and associates
Mondays, 10:45 - 11:45 a.m. CDT
April 6 – June 22 No meeting May 25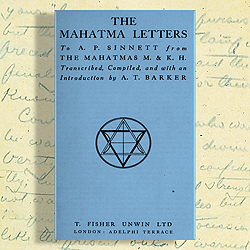 From 1880 to 1885, H. P. Blavatsky's teachers, Mahatmas Koot Hoomi and Morya, engaged in an extraordinary correspondence with two influential British men living and working in India. These letters were published in 1923, and since then they have become a primary sourcebook of esoteric philosophy, along with The Secret Doctrine. Their profound teachings have challenged, stimulated, and inspired genuine seekers and students of the Ancient Wisdom around the world for nearly a century.
Join this weekly online discussion group to explore the content of these letters and further your understanding of this important Theosophical text with the help of experienced students.
Pablo Sender, Ph.D., has presented Theosophical lectures, seminars, and classes around the world and is the author of Evolution of the Higher Consciousness. Learn more at his website: www.pablosender.com.
Registration includes access to recordings of the meetings.
$40 suggested donation (minimum fee $5)
If you are unable to pay the minimum fee due to hardship, please email webinars@theosophical.org for assistance.
In memoriam. This study group was started in 2016 by Sy Ginsburg, who also facilitated and advised other Theosophical Society online programs until his death in 2019. Sy became a member of the Theosophical Society in 1978 and served as president of the Miami Branch. He was the author of several books, including The Masters Speak: An American Businessman Encounters Ashish and Gurdjieff.
Before her death in 2019, Fiona Odgren was a dedicated co-facilitator of this study group. Fiona served as president of the Theosophical Society in Victoria, British Columbia, Canada, and was the author of two books: Insights from the Masters and Timeless Truths of The Secret Doctrine.
Group Resources
Click to access the Mahatma Letters Portal on the Theosophy Wiki.
Meeting Format
This is a live online study group that is also recorded for on-demand viewing. The text of the letter is displayed on-screen, and a participant reads a short selection aloud. The facilitators share their insights regarding the passage and then open up the floor to questions and discussion. Afterward, the participant continues with the reading. Our goal is to send recordings to you within two business days, often sooner.
Software Platform
Zoom Meetings for Windows, Mac, or mobile device; microphone or telephone connection required; webcam recommended; minimum recommended network bandwidth 1.5 Mbps. If desired, you may download the Zoom software to your computer or mobile device. Please email webinars@theosophical.org for further information.