The Key to Theosophy
with Pablo Sender
Mondays, 7:00 - 8:30 p.m. CDT [UTC-05]
September 16 – October 14, 2019 (5 classes)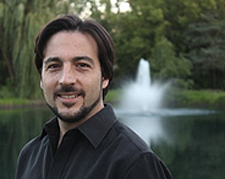 At Home with Theosophy is a series of online courses focusing on the study and discussion of classical Theosophical teachings. In this course, Pablo will explore the first five chapters of Blavatsky's introductory text, The Key to Theosophy, which has been a main source of Theosophical knowledge since its publication.
Pablo Sender, Ph.D., became a member of the Theosophical Society in his native Argentina and has presented Theosophical lectures, seminars, and classes around the world. He is the author of Evolution of the Higher Consciousness, and his articles have been published in several Theosophical journals. Learn more at his website: www.pablosender.com.
Registration includes access to recordings of all the classes.
$50 suggested donation (minimum fee $5)
If you are unable to pay the minimum fee due to hardship, please email webinars@theosophical.org for assistance.
.
Course Outline
Week 1: Section 1: Theosophy and the Theosophical Society
Week 2: Section 2: Exoteric and Esoteric Theosophy
Week 3: Section 3: The Working System of the T.S.
Week 4: Section 4: The Relations of the Theosophical Society to Theosophy
Week 5: Section 13: On the Misconceptions about the Theosophical Society
Course Resources
Click here if you would like to order The Key to Theosophy from Quest Books, or click here to access a free PDF or e-book.
Software Platform
Adobe Connect Meetings for Windows, Mac, Linux (limited support) or mobile device; ask questions via chat window or your microphone; your webcam is not used; minimum recommended network bandwidth 1.0 Mbps. Please email webinars@theosophical.org for further information.