with Juliana Cesano
Wednesdays, 7:00 – 8:15 p.m. CST [UTC-06]
February 12 – March 4 (4 classes)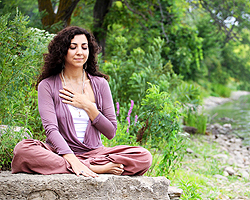 At the core of mystical traditions lies the burning flame of the heart – the doorway to direct union with the Divine. Like the mystics, occultist and Theosophical Society founder H. P. Blavatsky regarded the heart center as the seat of spiritual consciousness and provided guidance for us to follow. In this four-class series, we will explore the meaning and nature of the heart from an esoteric and mystical perspective, the foundations of a heart-centered meditation practice, and the essential requisites to tread this path as taught by those who walk ahead of us. Each session will provide a 20-minute guided meditation and elements to transform our seemingly mundane life into a constant communion with Oneness.
Juliana Cesano is a second-generation Theosophist and has been actively involved with the Society's work for over 20 years. She spent two years volunteering at the international headquarters in Chennai, India, before becoming a staff member at the Theosophical Society in America. She is a certified yoga teacher, 200 CYT, and is currently the manager of the Quest Book Shop.
Registration includes access to recordings of all the classes.
TS Members: $50 • Nonmembers: $60
Course Outline
The Divine beyond definitions and our inextricable closeness with It. The nature of the heart from the perspective of different traditions. The human being as a summarized macrocosm. Foundations of a contemplative life.
Meditation Practice: The inner dimensions of relaxation. Leaving the past behind. Compassion as the leading force, the first and last step.
Reversing the interaction between the intellectual consciousness (brain) and the spiritual consciousness (heart). The role of spiritual intuition (Buddhi) in our lives. The conscious cultivation of virtue as a stepping stone.
Meditation Practice: The implications of one-pointedness. Identifying the knower and the doer.
The constant remembrance in the heart. The cloud of unknowing and the cloud of forgetting. The stages of unfoldment and the possible pitfalls on the path.
Meditation Practice: Establishing a relationship with the heart center.
The art of listening. Erasing the seeker. Final instructions for the heart-centered meditation. Inspirations from mystical poetry.
Meditation Practice: Visual elements of the practice. From centering to expansion.
Software Platform
Zoom Meetings for Windows, Mac, or mobile device; microphone or telephone connection required; webcam recommended; minimum recommended network bandwidth 1.5 Mbps. Please email webinars@theosophical.org for further information.