with Juliana Cesano
Sundays, ongoing, 11 a.m. - 12:00 p.m. CDT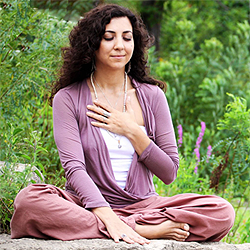 Join our meditation group every Sunday, to nurture your commitment to practice. Each week, a topic related to meditation will be presented and discussed, followed by a brief guided meditation and longer silent meditation. Instruction will be provided for beginners, but practitioners of all levels are welcome.
To participate, visit our webcast page, YouTube channel or Facebook page and watch via livestream. There is no charge for participation.
Juliana Cesano is a second generation Theosophist and has been actively involved with the Society's work for over twenty years. She volunteered for two years at the international headquarters in Chennai, India, and has been part of the staff at the headquarters of the Theosophical Society in America for the last 10 years. She is a certified yoga teacher, 200 CYT, and is currently the manager of the Quest Book Shop.