with Billie Topa Tate
Saturday, May 30, 1:00 – 3:00 p.m. CDT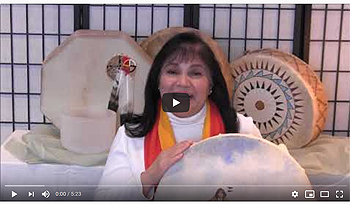 Experience a very unique retreat filled with important and empowering wisdom training from the tradition of the Medicine Woman. The Medicine Woman is in harmony with the breath of life which is at the center of our point of peace, grace, tranquility, healing, stillness, beauty, and life-changing happiness. Sometimes we forget this wonderful energy resides within our energy field and spirit.
The essence of the Medicine Woman training is refreshing, timeless and connects us with the Woman Spirit in all of us. Everyone is warmly welcomed.
Topics include:
Taking Sacred Time for yourself and why this is important

Living within the higher aspect of our heart center
Connecting with Mother Earth through wisdom stories and techniques
Native techniques for Sacred Balance throughout the day
Activating the beautiful woman spirit training
Developing mystical time for mind, body and spirit
Aura enhancements and Medicine Woman smudge training
Using our drums and rattles as a healing tool - and learning a native song
Techniques for finding stillness with the sacred timing of nature
Billie Topa Tate' is the founder of MSI Wellness Center. She is Mescalero Apache and is dedicated to "Creating a Sacred Place One Person at a Time" through the indigenous native teachings of her teachers. Topa Tate' has lectured and taught at Northwestern University, The Cancer Treatment Center of America, and more. Her work has been published by several magazines, and she is the author of several meditation recordings. She is dedicated to being of service to anyone who is seeking wellness, mindfulness training, and spiritual growth. Learn more at her website: msi-healing.com.
$35

Registration includes access to a recording of the workshop for on-demand viewing.
To participate in the live workshop, please register by May 29. Late registrants will receive a recording link for on-demand viewing.
You can also join Billie for her talk "The Shaman's Life Lessons" on Thursday, May 28.
Workshop Format
This is a live, interactive online workshop that will also be recorded for on-demand viewing. Our goal is to send the workshop recording to you within two business days, often sooner. The recording will be available for on-demand viewing for one week following the workshop date.
Software Platform
Zoom Meetings for Windows, Mac, or mobile device; microphone or telephone connection required; webcam recommended; minimum recommended network bandwidth 1.5 Mbps. Please download Zoom for free at zoom.us/download, and test your connection at zoom.us/test. Please email webinars@theosophical.org for further information.