Saturday, May 1, 1:00 - 3:00 p.m. CDT, $40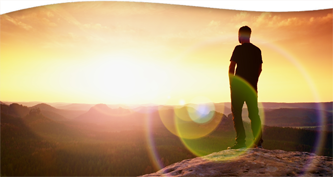 The only thing we can truly know to exist is our own conscious awareness. But in these modern times, how much attention do we place on our inner world? Our birthright as humans is a reasoning mind, but to define it scientifically is challenging. Some even claim that conscious awareness is simply a mere illusion and is nothing but an insignificant artifact of the brain. And yet, what takes place within our minds feels decidedly real.
Those who have had a near-death experience attest to a realm that is "more real than real," and yet, it all happens beyond the observation of others, completely within the mind. It's no wonder that such experiences are refuted by some as hallucinations, since secular Western thought maintains that only the physical world is real and everything else is an illusion.
But repeated experiments in quantum physics offer significant evidence that the role of our mind is more significant than materialist science would suggest. Gaining firsthand awareness of this connection is vital so we can realize our true place in the universe as sentient beings. To truly know yourself is to realize you are fundamentally spiritual and connected through one consciousness by the binding force of love.
During this experiential workshop, you will:
Experience an alignment with your higher, more expanded self using Sacred Acoustics audio technology
Realize that the observer behind your thoughts is a more refined aspect of who you truly are
Learn how collective mind energies, together with heart wisdom, create a resonance that unites us in oneness
Registration includes on-demand access to a recording of the workshop that can be viewed for two weeks following the date it was presented.
To ensure you receive your meeting link prior to the live program, please register by April 30.
You can also watch Dr. Eben Alexander's talk,"Answers to Essential Questions about Life, Death, and the Afterlife" on Thursday, April 22.
Eben Alexander, M.D., was an academic neurosurgeon for over 25 years, including 15 years at the Brigham & Women's Hospital, Children's Hospital, and Harvard Medical School in Boston. He also has a passionate interest in physics and cosmology. He is the author of the New York Times #1 bestseller Proof of Heaven, The Map of Heaven, and Living in a Mindful Universe. For more information visit www.ebenalexander.com.
Karen Newell has spent a lifetime seeking wisdom through esoteric teachings and firsthand experience exploring realms of consciousness. She empowers others by demonstrating how to connect to inner guidance, achieve inspiration, improve wellness and develop intuition. She is co-founder of Sacred Acoustics, an innovator in the emerging field of brainwave entrainment audio meditation, and co-author with Dr. Eben Alexander of Living in a Mindful Universe. For more information visit www.sacredacoustics.com.
Program Format
This is a live, interactive online workshop that will also be recorded for on-demand viewing. Our goal is to send the workshop recording to you within two business days, often sooner. The recording will be available for on-demand viewing for two weeks following the workshop date.
Software Platform
Zoom for Windows, Mac, or mobile device; minimum recommended network bandwidth 1.5 Mbps. Please download Zoom for free at zoom.us/download, and test your connection at zoom.us/test. New to Zoom? Check out www.theosophical.org/FAQ. Please email webinars@theosophical.org for further information.