Saturdays 10:00 – 11:30 a.m. CST
March 5 – March 26 (4 classes)
TS members: $70 • Nonmembers: $80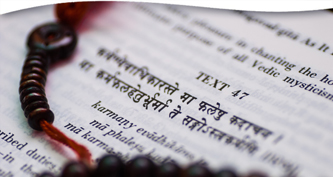 Sanskrit, the ancient language of Indian spiritual scriptures, is at once timeless and timely. This language, seemingly inaccessible, is as relevant and needed now as ever. When we go deeper with the wisdom of the Bhagavad Gita, the Yoga Sutras of Patanjali, the Vedas, and the Upanishads by approaching the original Sanskrit words, phrases, and verses, we connect with the essential spirit embedded in these scriptures. Those who wish to study Sanskrit—practicing the language, and learning the correct pronunciation and intent of original scriptures—know that this foundation is as essential as the correct body alignment is for students of yoga; it allows us all to connect fully with the essential spirit of these scriptures.
In this introductory course, we will learn examples from popular scriptures without the heavy grammar details and rigorous memorization of the traditional approaches to learning the language.
This course will allow students to get closer to the language that is often part of their spiritual practice but remains shrouded in mystery!
Goals of the Course:
Learn basic alphabets in Devanagari and Roman script (expanded keyboard).
Learn to pronounce Sanskrit words as well as possible.
Become able to read, correctly write, and understand key Sanskrit words.
Get an overview of Sanskrit language structure and learn to use a Sanskrit dictionary.
Know the meanings of some popular Sanskrit mantras and be able to read and write them.
Selected readings from Scriptures like the Yoga Sutras of Patanjali, the Bhagavad Gita, the Vedas, and the Upanishads.
This course is a combination of lectures, in-class practice writing, and pronunciation exercises and discussion. Reference material and exercises will be provided to students to allow them to get deeper into the material.
This course is intended for those who wish to know the meaning and want to learn how to pronounce and write commonly used Sanskrit words and verses (shlokas and mantras).
TS members: $70 • Nonmembers: $80
Registration includes on-demand access to recordings of all of the classes, which can be viewed for two weeks following the date of the last class.
Late registrants will receive recording links to all missed sessions for on-demand viewing.
Course Syllabus:
Lecture 1
Why learn Sanskrit? – Motivations for Yoga Students and Spiritual Seekers to Learn Sanskrit.
What is Sanskrit?
Sanskrit Alphabet – Writing Sanskrit in Devanagari and Roman Scripts.
Practice Pronunciation of Sanskrit alphabets.
Learn Four Mahavakyas (Four Great Sayings from the Upanishads).
Lecture 2
Continue learning Sanskrit alphabet – adding vowels, consonant clusters.
Very Brief Overview of Sanskrit Grammar:

Sentence formation, sandhi, grammar, use of dictionary etc.

Overview of Sanskrit Scriptures:

Some examples from the Bhagavad Gita, the Rig Veda, and the Upanishads – text in Devanagari and Roman will be provided and we will practice pronunciation.
Lecture 3
Learn spelling and meaning of names of commonly used Sanskrit words in Eastern Spiritual Works and yoga.
Practice using a dictionary.
Selections from scriptures: the Yoga Sutras of Patanjali, the Bhagavad Gita, the Vedas, and the Upanishads.
Lecture 4
Learn spelling, pronunciation and meaning of popular Sanskrit verses (shlokas, mantras).
Selections from scriptures: the Yoga Sutras of Patanjali, the Bhagavad Gita, the Vedas, and the Upanishads.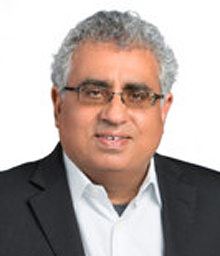 Vivek Bakshi, Ph.D., is the founder of the Sangam Retreat, the spiritual arm of The Writing Barn, a writing retreat and workshop space in Austin, Texas, that he owns and operates with his wife, Bethany Hegedus. Born in Lucknow, India and a graduate of the Indian Institute of Technology, he received his Ph.D. in Physics in the U.S. Vivek has long been a seeker of spiritual wisdom, including meditation, Sanskrit, and the study of various religious traditions, even as he is a leading and in-demand expert in the technical field of computer chip manufacturing. His latest book, Extreme Ultraviolet Lithography, is a bestseller. A student of yoga for the past 15 years, coupled with his studies of Sanskrit at the University of Texas, has led Vivek to develop programming in an effort to serve yogis and yoga therapists, as well as other spiritual seekers, in reading, writing, and understanding the meaning of Sanskrit words, shlokas and scriptures. Scriptures such as Ramayana, the Yoga Sutras of Patanjali, the Upanishads, and the Bhagavad Gita are among his favorites. Learn more at sangamretreat.com.
Program Format
This is a live, interactive online program that will also be recorded for on-demand viewing. Our goal is to send recordings to you within two business days, often sooner. Recordings will be available for on-demand viewing for two weeks following the date of the last class.
Software Platform
​Zoom for Windows, Mac, or mobile device; minimum recommended network bandwidth 1.5 Mbps. Please download Zoom for free at zoom.us/download, and test your connection at zoom.us/test. New to Zoom? Check out www.theosophical.org/FAQ. Please email webinars@theosophical.org for further information.