Saturday, May 21, 2:00 – 4:30 p.m. CDT
$45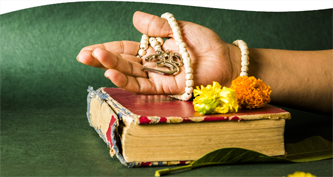 Vedanta holds that our truest nature is not mortal; it is divine. However, in order to truly become aware of our essence, we must have a great depth of self-knowledge. The Upanishads hold that this self-knowledge—which is a living reality more than a theoretical understanding—is the very key to fulfillment. We must come to see ourselves not as this limited self, but as unlimited, pure, unchanging consciousness. By realizing the true nature of our own self, we come to see that we are infinite being-consciousness-bliss. This very knowledge sets us free from the travail of samsara, the cyclicality of existence.
In this interactive workshop, we will explore the process of self-inquiry taught in the Taittiriya Upanishad that can help us arrive at true knowledge about our essential nature.
The workshop will include:
Teachings from traditional Sanskrit Scriptures
In-depth explanation of the implications of the teaching
Guided mediation and practice
$45
Registration includes on-demand access to a recording of the workshop, which can be viewed for two weeks following the date it was presented.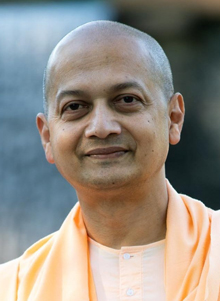 Swami Sarvapriyananda is a monk of the Ramakrishna Mission and is the current minister of the Vedanta Society of New York. He joined the Ramakrishna Order of monks as a novice brahmachari in 1994 and received sannyasa (monastic ordination) in 2004. Swami Sarvapriyananda is known for his lectures on the various texts of Advaita Vedanta and his speaking engagements have included discourses at the Rubin Museum in New York City, Indian Institute of Technology in Kanpur, and the Parliament of World's Religions as one of the keynote speakers. For more information visit www.vedantany.org.
Program Format
This is a live, interactive online program that will also be recorded for on-demand viewing. Our goal is to send recordings to you within two business days, often sooner. Recordings will be available for on-demand viewing for two weeks following the day the program was presented.
Software Platform
Zoom for Windows, Mac, or mobile device; minimum recommended network bandwidth 1.5 Mbps. Please download Zoom for free at zoom.us/download, and test your connection at zoom.us/test. New to Zoom? Check out www.theosophical.org/FAQ. Please email webinars@theosophical.org for further information.