FREE WEBCAST
Thursday, July 21, 7:00 p.m. CDT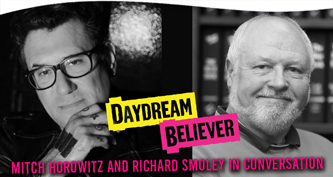 Are thoughts causative? Can thinking make it so?
Spiritual seekers and scholars Richard Smoley and Mitch Horowitz hold a critical dialogue on the question of mind causation—its history, theory, pitfalls, and potentials.
This special event marks the publication of Mitch's book Daydream Believer and the launch of his 4-part live online workshop of the same name.
Mitch Horowitz is a historian of alternative spirituality and one of today's most literate voices of esoterica, mysticism, and the occult. He is among the few occult writers whose work touches the bases of academic scholarship, national journalism, and subculture cred. Mitch is a writer-in-residence at the New York Public Library, lecturer-in-residence at the Philosophical Research Society in Los Angeles, and a PEN Award-winning historian whose books include Occult America; One Simple Idea; The Miracle Club; Daydream Believer; and the forthcoming Uncertain Places. The Washington Post says Mitch "treats esoteric ideas and movements with an even-handed intellectual studiousness that is too often lost in today's raised-voice discussions." He has discussed alternative spirituality across the national media and collaborated with Emmy-nominated director Ronni Thomas on the feature documentary The Kybalion, shot on location in Egypt. Mitch's books have appeared in Arabic, Korean, Portuguese, Italian, Spanish, French, and Chinese. He received the Walden Award for Interfaith/Intercultural Understanding. The Chinese government has censored his work. Visit him at MitchHorowitz.com
Richard Smoley is the author of twelve books on spirituality, philosophy, and religion. His latest book, Introduction to the Occult, was published in January 2022 by GD Media. Richard's book A Theology of Love: Reimagining Christianity through "A Course in Miracles" was published in November 2019 by Inner Traditions International. His other works include Inner Christianity: A Guide to the Esoteric Tradition; Supernatural: Writings on an Unknown History; The Dice Game of Shiva: How Consciousness Creates the Universe: Conscious Love: Insights from Mystical Christianity; The Essential Nostradamus; and Hidden Wisdom: A Guide to the Western Inner Traditions (with Jay Kinney). Formerly editor of Gnosis: A Journal of the Western Inner Traditions, Richard lectures nationwide and has been featured on many online videos. Richard is also editor of Quest: Journal of the Theosophical Society in America. His website is innerchristianity.com.
This program will be streamed live on YouTube, Facebook, and our website July 21 at 7:00 p.m. CDT.