Mondays, 7:00 - 8:30 p.m. CDT
September 12 – October 3 (4 classes)
TS members: $70 • Nonmembers: $80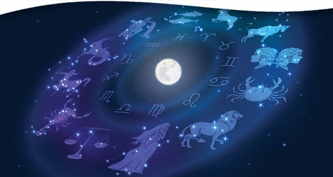 As we move into a new paradigm, we're more aware of how our thoughts and perceptions shape our lives. Each astrological transit represents a whole spectrum of possibilities. We can help shape the future by how we interpret these symbols and perceive the possibilities they suggest. One way to do this is to look at the overall soul growth themes of our outer planet transits. This course outlines these concepts and provides ways you can work with astrology to help shape your future. You don't need to have any astrological background for this course — just a willingness to learn and grow. Designed as an interactive course, participants have the opportunity to join in discussions. See below for the course syllabus.
TS members: $70 • Nonmembers: $80
Registration includes on-demand access to recordings of all of the classes, which can be viewed for two weeks following the date they were presented.
Course Syllabus:
Class 1: What is an Astrological Transit?
We will talk about an overview of transits, including how to identify the ones related to your birth chart.
We touch on the principles of harmonics and sacred geometry.
Moving beyond personal astrology, we'll discuss the nature of transits on a global level, sharing historical references to describe the cycles represented when two planets come together.
We will study the transits of significant moments in history, and we'll share a few examples of charts from participants in the class.
Class 2: Fate and Free Will
Here, we do a deep dive into the philosophy of using astrology as a forecasting tool.
We will talk about using astrology as a tool to guide our choices so we can better sync up with the predominant energies and reduce the strain of pushing against the flow.
We will share personal examples in this class and have an open discussion about the nature of fate and free will.
Class 3: Jupiter, Saturn, Uranus Transits
In this class, we focus on Jupiter, Saturn, and Uranus transits, emphasizing the soul growth themes of each planetary interaction.
We will talk about the nature of different aspects, focusing on the conjunction, square, opposition, quincunx, sextile, and trine aspects.
We will explore the themes of these transits using celebrity charts as well as the charts of participants.
Class 4: Neptune and Pluto Transits
In this class, we focus on Neptune and Pluto transits, emphasizing the soul growth themes of each planetary interaction.
We will look at chart examples using celebrity charts as well as charts of class participants.
Rachel Lang, a professional astrologer, psychic medium, and healer, is a regular contributor to a variety of publications, including Bustle, Brit + Co, LVBX, Romper, PopSugar, and the Omega News. An internationally recognized speaker, she enjoys sharing her astrological and spiritual knowledge with others and regularly offers presentations, classes, and workshops. Rachel began studying astrology and developing her spiritual gifts more than 20 years ago and has maintained a private practice working with individuals and businesses since 2006. She holds a master's degree in theology from Loyola Marymount University, with an emphasis on feminist theology and ethics. Rachel is certified by the American Federation of Astrologers and is a member of the International Society for Astrological Research. She is also certified as an advanced psychic medium through the Lisa Williams International School of Spiritual Development. Learn more at rachellangastrologer.com.
Program Format
This is a live, interactive online program that will also be recorded for on-demand viewing. Our goal is to send recordings to you within two business days, often sooner. Recordings will be available for on-demand viewing for two weeks following the day the program was presented.
Software Platform
Zoom for Windows, Mac, or mobile device; minimum recommended network bandwidth 1.5 Mbps. Please download Zoom for free at zoom.us/download, and test your connection at zoom.us/test. New to Zoom? Check out www.theosophical.org/FAQ. Please email webinars@theosophical.org for further information.