Saturday, October 22, 1:00 – 3:00 p.m. CDT
$40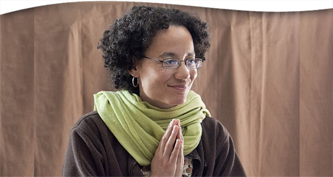 Life is full of change: birth, death, marriage, divorce; a new relationship; losing or starting a job; beginning a new phase in life, or ending one. Change is stressful, even when it is much desired or anticipated. The unknown can feel scary and threatening.
We may believe that in order to be happy and at peace, our suffering has to disappear completely. However, while we may not be able to completely change the nature of life, we can change the way we view it and relate to life's challenges.
In this workshop, we'll learn how we can nurture and strengthen the good in us so that we can draw on it in difficult times. Gratitude is enormously transformative in moments of hardship and a huge booster of resilience and strength. We'll learn effective ways to develop it in daily life, including with the children in our lives, and even in the midst of heartbreak. This is an orientation towards life in which we live the present moment in such a way that we create a beautiful past.
You will learn:
How to come home to yourself even in the midst of the unexpected
Practices for resting back into the unknown
How to care for stormy emotions and maintain your centeredness
Practices for cultivating equanimity and joy in any circumstance
How to tap into your own unique capacity to respond to the collective challenges we face
Registration includes on-demand access to a recording of the workshop, which can be viewed for two weeks following the date it was presented.
$40
Kaira Jewel Lingo began practicing mindfulness in 1997 and teaches Buddhist meditation, secular mindfulness, and compassion internationally. After living as an ordained nun for 15 years in Thich Nhat Hanh's monastic community, Kaira Jewel teaches in the Zen lineage and the Vipassana tradition, at the intersection of racial, climate and social justice with a focus on activists, Black/Indigenous/People of Color, artists, educators, families, and youth. Now based in New York, she offers spiritual mentoring to groups and is author of the just released We Were Made for These Times: Ten Lessons in Moving through Change, Loss and Disruption from Parallax Press. Visit kairajewel.com to learn more.
Program Format
This is a live, interactive online program that will also be recorded for on-demand viewing. Our goal is to send recordings to you within two business days, often sooner. Recordings will be available for on-demand viewing for two weeks following the day the program was presented.
Software Platform
Zoom for Windows, Mac, or mobile device; minimum recommended network bandwidth 1.5 Mbps. Please download Zoom for free at zoom.us/download, and test your connection at zoom.us/test. New to Zoom? Check out www.theosophical.org/FAQ. Please email webinars@theosophical.org for further information.