Wednesdays 7:00 – 8:15 p.m. CDT
October 26 – December 7 (6 classes), No class November 23
TS Members: $50 • Nonmembers: $60
Meditation provides the tools that help us transform the mundane life of habitual patterns into a life of freedom. This course will give participants a comprehensive overview of both the theory and practice of meditation in plain English.
We begin by using simple techniques such as systematic relaxation of the body, and mindfulness of breathing to cultivate greater awareness, concentration, and serenity. As our skill in meditation develops, we are able to investigate our inner world of emotions and mental states, and realize that we are in fact the creator of these states. The truth is that no one in the world can make you happy or miserable, only you can create happiness or misery. With this understanding, we begin to appreciate that through the "miracle of being awake," we can actually choose what we create, and thereby experience freedom.
Recommended text: The Meditative Path: A Gentle Way to Awareness, Concentration and Serenity by John Cianciosi. See below for the course syllabus.
TS Members: $50 • Nonmembers: $60
Registration includes on-demand access to recordings of all the classes, which can be viewed for two weeks following the date of the last class.
Late registrants will receive recording links to all missed sessions for on-demand viewing.
Each week will include a period of guided meditation.
Week 1
Overview of the scope of meditation and its benefits. Explaining Awareness, Concentration and Serenity. Getting started with posture, time, and place. Systematic relaxation.
Week 2
Mindfulness of Breathing. Knowing the In and Out Breath with present moment awareness.
Week 3
Understanding how to apply gentle effort in guiding the mind. Some of the common problems encountered in meditation practice and how to work with them.
Week 4
Refining our attention on the breath by thinning out the jungle of thoughts, and inclining towards present moment silent awareness of each breath.
Week 5
Meditation in Daily Life. Bringing more awareness into ordinary activities, and making more of life becomes an aspect of meditation. Exploring the nature of the physical world as we experience it through our five senses. and our habitual inner reactions.
Week 6
Understanding the nature of emotions, freeing ourselves from habitual negative reactions and learning to live with a trouble-free mind.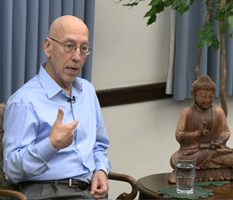 John Cianciosi was ordained a Buddhist monk in Thailand in 1972 and trained under one of that country's most gifted and influential meditation masters, the late Venerable Ajahn Chah. While living in remote jungle monasteries, he led a disciplined, celibate life devoted to the practice of mental cultivation. Later, he was appointed abbot of Wat Pah Nanachat, the International Forest Monastery established to provide training for the growing number of Ajahn Chah's Western disciples. In 1982, he was asked to establish a Buddhist monastery in Perth, Western Australia. For the next 14 years, he was instrumental in successfully establishing Bodhinyana Monastery and Dhammaloka Buddhist Centre. In 1995 he left the monastic life and moved to the Chicago, Illinois area, where he continues to share his insights and wisdom. He is the author of The Meditative Path and is currently the director of public programs at the Theosophical Society in America.
Program Format
This is a live, interactive online program that will also be recorded for on-demand viewing. Our goal is to send recordings to you within two business days, often sooner. Recordings will be available for on-demand viewing for two weeks following the date of the last class.
Software Platform
Zoom for Windows, Mac, or mobile device; minimum recommended network bandwidth 1.5 Mbps. Please download Zoom for free at zoom.us/download, and test your connection at zoom.us/test. New to Zoom? Check out www.theosophical.org/FAQ. Please email webinars@theosophical.org for further information.