Saturday, March 4, 1:00 – 3:30 p.m. CT
$45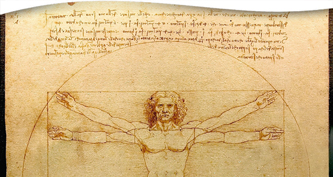 "Michael Gelb guides us in the discovery and understanding of the boundlessness of our own full human potential." —Deepak Chopra, M.D.
What if you could call on one of history's greatest geniuses to be your personal mentor in cultivating your creativity and consciousness? Anatomist, architect, botanist, city planner, chef, humorist, engineer, equestrian, inventor, geographer, geologist, military scientist, musician, painter, philosopher and raconteur, Leonardo da Vinci (1452 – 1519) helped bring the Western world out of the Middle Ages and into the Renaissance. His approach to optimizing human potential is more relevant now than ever.
Five hundred years ago, da Vinci proclaimed, "Iron rusts from disuse and water that does not flow becomes stagnant, thus it is with the human mind." With appropriate training and practice, you can raise your I.Q., improve your memory, and sharpen your intelligence. This dynamic, highly-interactive program brings da Vinci's genius to you through fascinating biographical and historical information, setting the stage for an introduction to seven principles for a more creative, beautiful life. You will be guided to apply the principles, through a proven series of practical exercises, to discovering more light, beauty and joy in your life, right now.
Registration includes on-demand access to a recording of the workshop, which can be viewed for two weeks following the date it was presented.



Michael J. Gelb works with visionary leaders around the world to support them in nurturing more innovative and human-centered cultures and to inspire and equip them with the creative thinking tools and conscious communication strategies that help translate ideals into reality. The author of 17 books including How to Think Like Leonardo Da Vinci, The Healing Organization and The Art of Connection, his books have been translated into 25 languages and have sold more than one million copies. In 2003, Michael received a Batten Fellowship in Innovation from The University of Virginia and co-directed the acclaimed Leading Innovation Seminar at the Darden Graduate School of Business for more than 10 years. In 2020, he was invited to become a Senior Fellow of the Center for Humanistic Management at Fordham's Gabelli School of Business. In 2021, Michael was invited to become a member of the MG100 Coaches group. Michael is also a master teacher of the Alexander Technique, aikido and qigong, and a professional juggler who performed with the Rolling Stones. For more information, visit www.michaelgelb.com.
"Michael Gelb is an authentic source of practical wisdom for those who seek to develop their creative powers." —Murray Gell-Mann Nobel Prize in Physics
"Michael Gelb embodies the archetype of the Creative. Through his immensely popular seminars and writings he transmits state of the art knowledge of the nature of genius, the working of the brain, and the quickening of creative energy. A master of the art of creative thinking, Michael will guide you in an exploration of your mind's potential that is uniquely entertaining and illuminating." —Jean Houston, Ph.D. and author
Program Format
This is a live, interactive online program that will also be recorded for on-demand viewing. Our goal is to send recordings to you within two business days, often sooner. Recordings will be available for on-demand viewing for two weeks following the day the program was presented.
Software Platform
Zoom for Windows, Mac, or mobile device; minimum recommended network bandwidth 1.5 Mbps. Please download Zoom for free at zoom.us/download, and test your connection at zoom.us/test. New to Zoom? Check out www.theosophical.org/FAQ. Please email webinars@theosophical.org for further information.