Saturdays 10:00 – 11:30 a.m. CT
March 11, 2023 – April 1, 2023 (4 classes)
TS members: $65• Nonmembers: $80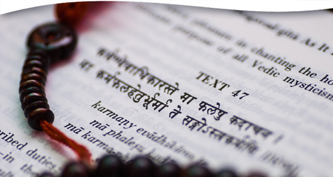 The Upanishads are considered to be the source material for many Indian spiritual texts including the Bhagavad Gita, Yoga Sutra, and Purana. The Upanishads are usually found at the end of the four Vedas and are also referred to as "Vedanta,"—a summary of teachings found in the Vedas.
Traditionally, there are considered to be 108 Upanishads; however, Shankaracharya—an Indian Vedic scholar—only commented on 11 of them, which are now considered the Principal Upanishads. As a whole, the Upanishads discuss a variety of philosophical inquiries, including the Nature of the Ultimate Reality, Who we are, Why we are here, and How to live our lives with purpose. Due to the advanced nature of these philosophical concepts, while these texts contain much wisdom, they are typically hard to read as introductory texts.
There are several approaches to teaching the Upanishads: reading and discussing translations, explaining concepts from the Upanishads by referencing other Upanishads, teaching translations of the Sanskrit texts, the telling of Upanishadic stories, and hands-on application through personal-inquiry exercises.
This course will incorporate these methods and offer short meditations to give students personalized insight into some of the core Upanishadic teachings. Students will also receive a copy of key reference materials, Sanskrit texts, and translations as needed.
Goals of the Course:
Learn basic Upanishadic / Vedanta concepts
Explore readings from all the Major Upanishads.
Reference material, written exercises, and in-class mediation practices will be provided to help students to get deeper into the material. This course is intended for those who wish to understand the overarching concepts of the Upanishads and to those interested in reading and discussing key sections from these scriptures.
Registration includes on-demand access to recordings of all the classes, which can be viewed for two weeks following the date of the last class. Late registrants will receive recording links to all missed sessions for on-demand viewing.

Course Syllabus:
Lecture 1
Essence of Upanishads – Who we are?
What are the Vedas and Upanishads?
How to study the Upanishads
Essence of the Upanishads - Key questions found in the Upanishads
Readings – Selections from the Bṛhadāraṇyaka Upaniṣad
Lecture 2
Essence of the Upanishads – How Truth unfolds in our lives
Readings – Selections from the Chāndogya Upaniṣad
Lecture 3
Essence of the Upanishads – Key concepts for living a life based on the Upanishadic Principles, Five Koshas, and the Four Desires
Readings – Selections from the Taittirīya Upaniṣad, īśā Upaniṣad, Kathā Upaniṣad, and selections from the minor Upanishads
Lecture 4
Essence of Upanishads – Key terms
Readings – Passages from the Kena Upaniṣad, Māṇḍūkya Upaniṣad, and Taittirīya Upaniṣad
Course pre-requisites: Some familiarity with Sanskrit is beneficial but not required.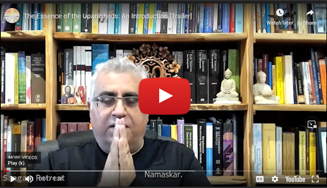 Vivek Bakshi, Ph.D., is the founder of Sangam Retreats, the spiritual arm of The Writing Barn, a writing retreat and workshop space in Austin, Texas, that he owns and operates with his wife, Bethany Hegedus. Born in Lucknow, India and a graduate of the Indian Institute of Technology, he received his Ph.D. in Physics in the U.S. Vivek has long been a seeker of spiritual wisdom, including meditation, Sanskrit, and the study of various religious traditions, even as he is a leading and in-demand expert in the technical field of computer chip manufacturing. His latest book, Extreme Ultraviolet Lithography, is a bestseller. A student of yoga for the past 15 years, coupled with his studies of Sanskrit at the University of Texas, has led Vivek to develop programming in an effort to serve yogis and yoga therapists, as well as other spiritual seekers, in reading, writing, and understanding the meaning of Sanskrit words, shlokas and scriptures. Scriptures such as Ramayana, Patanjali's Yoga Sutra, Upanishads, and Bhagavat Gita are among his favorites. Learn more at www.sangamretreat.com.
Program Format
This is a live, interactive online program that will also be recorded for on-demand viewing. Our goal is to send recordings to you within two business days, often sooner. Recordings will be available for on-demand viewing for two weeks following the date of the last class.
Software Platform
Zoom for Windows, Mac, or mobile device; minimum recommended network bandwidth 1.5 Mbps. Please download Zoom for free at zoom.us/download, and test your connection at zoom.us/test. New to Zoom? Check out www.theosophical.org/FAQ. Please