Saturday, May 13, 1:00 – 3:00 p.m. CT
$40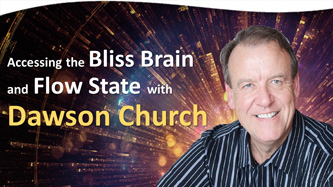 What does the Boston Marathon winner describing her runner's high have in common with the yogi emerging from his cave in the Himalayas? When each of them is hooked up to an EEG, their brain patterns are similar. They are both in a flow state and experiencing a phenomenon called Bliss Brain. Such elevated emotional, mental, and spiritual states have been described by mystics for millennia.
Now, modern research tools like MRIs and EEGs are allowing us to analyze the brain patterns of these adepts and map their neural activity. Science has built up a profile of their most active brain regions, and found that they match those of people in peak states of flow. These states also produce seven of the most pleasurable neurotransmitters and hormones known, from serotonin to anandamide, the "bliss molecule." Reverse engineering of these states now makes them trainable, and research shows that anyone can approach such peak states using simple physiological techniques.
During this experiential workshop, award-winning science writer and bestselling author Dawson Church, Ph.D., will review the neuroscience behind Bliss Brain and guide participants through practices that induce it.
Registration includes on-demand access to a recording of the workshop, which can be viewed for two weeks following the date it was presented.

Dawson Church, Ph.D., is an award-winning science writer with three best-selling books to his credit. The Genie in Your Genes was the first book to demonstrate that emotions drive gene expression. Mind to Matter showed that the brain creates much of what we think of as "objective reality." Bliss Brain demonstrates that peak mental states rapidly remodel the brain for happiness. Dr. Church did his undergraduate and graduate work at Baylor University, and obtained his doctorate at Holos University under the supervision of Harvard-trained neurosurgeon Norm Shealey, M.D., Ph.D., founder of the American Holistic Medical Association. Dr. Church has conducted dozens of clinical trials and founded the National Institute for Integrative Healthcare to study and implement promising evidence-based psychological and medical techniques. His groundbreaking research has been published in many prestigious scientific journals. Dawson Church is the editor of Energy Psychology: Theory, Research, & Treatment, a peer-reviewed professional journal. He shares how to apply these breakthroughs to health and athletic performance through EFTUniverse.com, one of the most-visited alternative healing sites on the web.
Program Format
This is a live, interactive online program that will also be recorded for on-demand viewing. Our goal is to send recordings to you within two business days, often sooner. Recordings will be available for on-demand viewing for two weeks following the date it was presented.
Software Platform
Zoom for Windows, Mac, or mobile device; minimum recommended network bandwidth 1.5 Mbps. Please download Zoom for free at zoom.us/download, and test your connection at zoom.us/test. New to Zoom? Check out www.theosophical.org/FAQ. Please email webinars@theosophical.org for further information.