Saturday, April 15, 1:00 – 3:30 p.m. CT
$45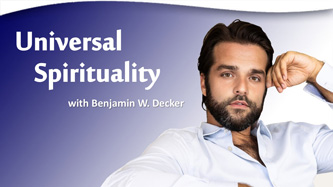 A spiritual awakening is taking place around the globe―and you can be a part of it. Discover a new expression of faith at the crossroads of world traditions with a new, modern spirituality. Benjamin W. Decker, bestselling author and host of The Modern Spirituality Show, will show how modern spirituality provides everyday applications for spiritual concepts like mindfulness, karma, and your higher nature―helping equip you on the journey to a more meaningful, fulfilling life.
Build your personal practice by tapping into key principles of spirituality while cultivating positivity, power, and purpose. Explore exercises to help you activate the ideas and skills you're learning―all supported by modern psychological and scientific understanding. It's time to embark down the path of healing and growth.
Together, we will:
Try introspective journaling, esoteric guided visualization, and meditative invocation of heavenly support
Learn seven core principles and delve into practices like mindfulness, yoga, and prayer
Experience guided meditation, mind-body exercises, and tools for spiritual and psychological growth
Registration includes on-demand access to a recording of the workshop, which can be viewed for two weeks following the date it was presented.

Benjamin W. Decker is a meditation teacher, philanthropist, energy healer, best-selling author, and host of The Modern Spirituality Show. He is also a spiritual advisor, and founding meditation teacher at prominent meditation studios and metaphysical hubs in Los Angeles including Unplug Meditation, The Den Meditation, Mystic Journey, and Full Circle Venice. In Benjamin's work with modern theosophy, which he refers to as "awakened theosophy," his mission is to show the world the many faces of God through an open-hearted exploration of all of the world's faith traditions. Benjamin's work as a healer, teacher, and author has been featured in The New York Times, Entrepreneur magazine, New York Post, Vogue, Rolling Stone, Cosmopolitan, and many others.
Program Format
This is a live, interactive online program that will also be recorded for on-demand viewing. Our goal is to send recordings to you within two business days, often sooner. Recordings will be available for on-demand viewing for two weeks following the date of the last class.
Software Platform
Zoom for Windows, Mac, or mobile device; minimum recommended network bandwidth 1.5 Mbps. Please download Zoom for free at zoom.us/download, and test your connection at zoom.us/test. New to Zoom? Check out www.theosophical.org/FAQ. Please email webinars@theosophical.org for further information.