Saturday, April 29, 1:00 – 3:30 p.m. CT
$45
A common feature of near-death experiences across cultures is encountering the souls of deceased loved ones. Hospice studies and shared death experiences confirm that our loved ones show up to greet us as we make our transition to the afterlife. Surveys reveal that around 30% of research participants report an unexpected and spontaneous encounter with a loved one after they have died, making these experiences more common than we realize.
Learn the fascinating details of these cases and discover how to open yourself to such encounters by cultivating an expanded state of awareness using specialized brainwave entrainment audio recordings.
Registration includes on-demand access to a recording of the workshop, which can be viewed for two weeks following the date it was presented.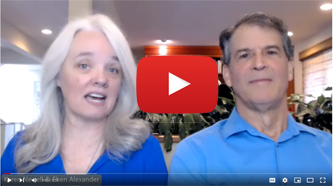 Eben Alexander, M.D., was an academic neurosurgeon for over 25 years, including 15 years at the Brigham & Women's Hospital, Children's Hospital, and Harvard Medical School in Boston. He also has a passionate interest in physics and cosmology. He is the author of the New York Times #1 bestseller Proof of Heaven, The Map of Heaven, and Living in a Mindful Universe. For more information visit www.ebenalexander.com.
Karen Newell has spent a lifetime seeking wisdom through esoteric teachings and firsthand experience exploring realms of consciousness. She empowers others by demonstrating how to connect to inner guidance, achieve inspiration, improve wellness and develop intuition. She is co-founder of Sacred Acoustics, an innovator in the emerging field of brainwave entrainment audio meditation, and co-author with Dr. Eben Alexander of Living in a Mindful Universe. For more information visit www.sacredacoustics.com.
Program Format
This is a live, interactive online program that will also be recorded for on-demand viewing. Our goal is to send recordings to you within two business days, often sooner. Recordings will be available for on-demand viewing for two weeks following the date of the last class.
Software Platform
Zoom for Windows, Mac, or mobile device; minimum recommended network bandwidth 1.5 Mbps. Please download Zoom for free at zoom.us/download, and test your connection at zoom.us/test. New to Zoom? Check out www.theosophical.org/FAQ. Please email webinars@theosophical.org for further information.