Friday, May 12, 7:00 p.m
$30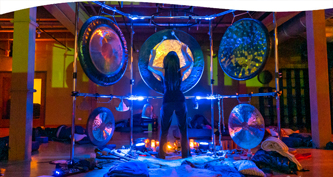 Humans have a basic need for awe, and because this need is wired into our brains and bodies, experiencing awe in our daily lives is actually quite easy once we take the time to observe and wonder. This guided meditation and ensuing sound bath will present participants with a portal to a phenomenological experience of awe by accessing consciousness through sound.
This soothing and healing environment of ambient sounds generated by five large gongs, singing bowls, drums, a didgeridoo, flute, hand-pan, and other sound tools will positively re-balance your mind-body-spirit connection.
This program will be streamed on a private YouTube channel*. Your access link will be sent with your confirmation email. The access link will also be available for on-demand viewing for two weeks following the date of the event.
*For the best sound experience, please use a headset.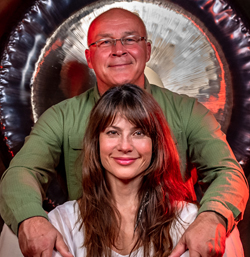 Gabriela and Marian Kraus provide a uniquely layered, multi-dimensional sonic tapestry designed to deeply relax and invigorate simultaneously. Participants are presented with an opportunity to lift their awareness about limiting beliefs and how to transform them. Both have studied gongs and sound therapy with renowned master teachers, and with their European and Latin American origins, possess a colorful life history. Their inherent artistic and musical abilities, years of studies in psychology, and metaphysics enhanced through experiences in health and wellness-related TV programs and international corporate settings work seamlessly together to facilitate a truly unique experience. Visit www.delamora.life for more information.