Saturdays, 9:30 – 11:00 a.m. CT
June 3 – 24 ( 4 classes)
TS members: $70 • Nonmembers: $80
This course is intended for anyone interested in the two major needs of the human soul, namely meaning and knowledge.
The purpose of spiritual search is a radical transformation of the searchers themselves. The assumption in spiritual teachings is that the whole cosmos has been created, or emanates, from energies or forces at the highest level of consciousness. Therefore, as spiritual searchers evolve, they naturally exude compassion, love, a sense of service, and a feeling of unity with everyone.
In the enterprise of scientific research, the effort is to get more and more accurate knowledge of the laws governing the external universe based on the assumption that everything in the cosmos has evolved from matter without consciousness. For some great scientists, scientific research itself has been a spiritual path.
Join us for an exploration of the goals, intentions, attitudes, and practices of people engaged in scientific research and spiritual search.
It is not necessary, but it can be helpful if the participants read the book Science and the Sacred by Ravi Ravindra. A course syllabus can be found below.
Registration includes on-demand access to recordings of all the classes, which can be viewed for two weeks following the date of the last class. Late registrants will receive recording links to all missed sessions for on-demand viewing.


Course syllabus
Week 1
Assumptions, Procedures, and Aims of Spiritual Search and Scientific Research
Physics has been the queen of the sciences since the 16th century, and the underlying assumption in that field is that the whole of the cosmos and all beings in it emerge by evolution from matter without any consciousness. In the spiritual domain, the underlying assumption is that the entire cosmos emerges by involution from the highest level of consciousness. The purpose of scientific research is to gather more and more knowledge about the universe, hoping ultimately to lead to a single unified theory of everything. The quality of being of the scientist is irrelevant to the value of their research. In spiritual search, the only relevant knowledge is that which transforms the quality of being of the searcher.
Week 2
Similarities and Differences Between Scientific Knowledge and Spiritual Knowledge
It is a common understanding in spiritual teachings that there are many levels of reality subtler than the mind. Therefore, there is always a call to quiet the mind. The first avenue to spiritual knowledge is purified feeling of receptivity, free of any wish to impose a mental construct on reality or to control it. Spiritual knowledge, unlike scientific knowledge, is based on insights coming from beyond, thought, and received through a silent mind, and is therefore free of the necessary restrictions imposed by the mind, such as time sequence. The fundamental requirement for spiritual knowing is freedom from one's egoistic self. This requires a radical transformation of the whole being of the searcher. The starting point for this transformation is impartial and steady self-awareness, which is the main mechanism of self-transformation. There is no such requirement of a scientific researcher. Also, spiritual knowledge, unlike scientific knowledge, is gained by an increased feeling of closeness between the knower and what is to be known.
Week 3
Spirituality Without Scientific knowledge is Ineffective, but Science Without Spiritual Perception is Insignificant
Spiritual work is necessary for finding the meaning of life. Given the obvious fact that we did not create ourselves, human beings wonder why extremely large forces have created them with the extremely delicate laws running the universe, and only for a few decades. Scientific knowledge is wholly occupied with the external universe. But that knowledge is obviously necessary for our survival and for being able to communicate with other human beings and take care of the planet on which we live. But however much we may know about the external universe, unless we have some understanding of our raison d'être, we feel a deep dissatisfaction inside. Scientists are occupied with experiments whereas spiritual searchers are concerned with experience, which has a very different meaning. Science would better serve the spiritual potential of the human race by acknowledging the inherent limits of its domain, as is acknowledged by some of the greatest scientists.
Week 4
Can Science be a Spiritual Path?
It is obvious that scientists are human beings before they are scientists. They also
experience love, and seeing a close friend die, they also wonder what happens when they themselves die. Many great scientists were and are very spiritually oriented. Precisely because of their large knowledge of the cosmos, they are able to appreciate the limitation of scientific knowledge and feel the call to be free of being excessively attached to our usual transient self. As Einstein said, "The scientists' religious feeling takes the form of a rapturous amazement at the harmony of natural law, which reveals an intelligence of such superiority that, compared with it, all the systematic thinking and acting of human beings is an utterly insignificant reflection."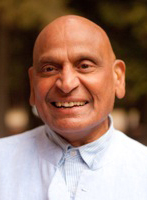 Ravi Ravindra, Ph.D., is an author and professor emeritus at Dalhousie University in Halifax, Nova Scotia, where he served as a professor in comparative religion, philosophy, and physics. A lifetime member of the Theosophical Society, Ravi has taught many courses at the School of the Wisdom in Adyar and at the Krotona Institute of Theosophy in Ojai, California. He was a member of the Institute of Advanced Study in Princeton, a fellow of the Indian Institute of Advanced Study in Shimla, and the founding director of the Threshold Award for Integrative Knowledge. For more information visit http://www.ravindra.ca/.
Program Format
This is a live, interactive online program that will also be recorded for on-demand viewing. Our goal is to send recordings to you within two business days, often sooner. Recordings will be available for on-demand viewing for two weeks following the date of the last class.
Software Platform
Zoom for Windows, Mac, or mobile device; minimum recommended network bandwidth 1.5 Mbps. Please download Zoom for free at zoom.us/download, and test your connection at zoom.us/test. New to Zoom? Check out www.theosophical.org/FAQ. Please email webinars@theosophical.org for further information.