Saturday, June 17, 1:00 – 3:00 p.m. CT
$40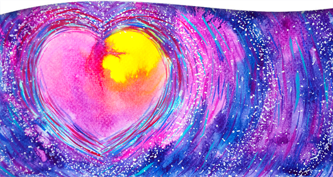 How do you authentically love yourself without it being something else for the ego to "get right?" Isn't it time to move beyond endless inner work and begin experiencing true liberation and authentic degrees of fulfillment? If so, then please join intuitive healer, bestselling author, and YouTube sensation Matt Kahn for a deep dive into the heart of awakening.
This group healing event is your chance to:
~Experience profound moments of surrender beyond the domain of ego
~Learn how incredible each moment can be when aligning with Spirit on a deeper level
~Surrender in a way that's simple, easy, and effective, no matter the circumstances in view
~Receive healing energy that can help uplift your experience on planet Earth
If you are ready to experience a journey of greater ease, joy, aliveness, inspiration, and empowerment throughout all aspects of your life, then this group healing event is the perfect catalyst to help move you into a brand-new dimension of being.
Registration includes on-demand access to a recording of the workshop, which can be viewed for two weeks following the date it was presented.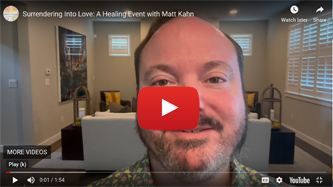 Matt Kahn is an incomparable spiritual teacher, highly attuned empathic healer, powerful speaker, and captivating author. He enriches people's lives by providing heart-centered solutions that ignite, delight, and unite! Matt wrote the highly acclaimed books Whatever Arises, Love That, Everything Is Here to Help You, and The Universe Always Has a Plan, which have been translated into more than a dozen languages. His second book, Everything is Here to Help You, was featured in the "Be Kind" box by Ellen DeGeneres.
His newest book, All For Love: The Transformative Power of Holding Space, is receiving early accolades and is sure to top bestsellers lists. Matt has become a YouTube sensation with his healing and often humorous videos. With 21 million YouTube channel views, followers are finding relief from the challenges of daily life through his heart-centered messages. Among his honors, Matt was named one of the top 100 Most Spiritually Influential Living People by Watkins magazine, alongside the Dalai Lama and Eckhart Tolle. When the world gets crazy, help is here – one "I Love You" at a time.
Experience the groundbreaking new full-length documentary film, Healed By Love, featuring bestselling author and intuitive healer Matt Kahn for FREE here: mattkahn.org/love
Program Format
This is a live, interactive online program that will also be recorded for on-demand viewing. Our goal is to send recordings to you within two business days, often sooner. Recordings will be available for on-demand viewing for two weeks following the day the program was presented.
Software Platform
Zoom for Windows, Mac, or mobile device; minimum recommended network bandwidth 1.5 Mbps. Please download Zoom for free at zoom.us/download, and test your connection at zoom.us/test. New to Zoom? Check out www.theosophical.org/FAQ. Please email webinars@theosophical.org for further information.