Wednesdays, 7:00 – 8:30 p.m. CT
August 9 – August 30 (4 classes)
TS Members: $65 • Nonmembers: $80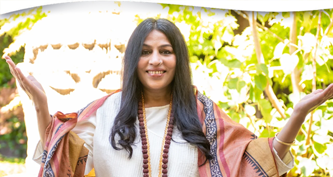 During this illuminating series of teachings by Vedic master teacher, lineage holder, and bestselling author Acharya Shunya, you will gain a clear understanding of the spiritual laws of karma that govern how and why your soul transmigrates from one body to another. And, most importantly, you will learn the ancient science of karma yoga, by which your soul can become free from suffering and bondage and be resituated in your naturally free and expansive joyful spiritual condition, which is eternal, full of knowledge, and blissful.
The essential ingredient of karma yoga includes adopting two designer spiritual attitudes and initiating five designer spiritual actions in our modern lives that purify our karma baggage and release our souls into a state of freedom (mukti). Once you begin to lead your life informed by the wisdom of karma yoga, you will begin to enjoy the magic of intentionally activated karma along with inner peace, joy, and contentment that unfolds on a daily basis.

Each class will include the chanting of a few of key verses from source texts such as the Bhagavad Gita and the Upanishads, facilitating an enduring transformation of consciousness and living joyfully in the present moment, free of the bondages of karma.
Registration includes on-demand access to recordings of all the classes, which can be viewed for two weeks following the date of the last class. Late registrants will receive recording links to all missed sessions for on-demand viewing.

Acharya Shunya is a Vedic lineage holder from the holy city of Ayodhya in India, scriptural scholar, teacher of Vedic, Yogic and Ayurvedic wisdom and author of three bestselling books including Sovereign Self, and Claim Your Inner Joy and Freedom with the Empowering Wisdom of the Vedas, Upanishads, and Bhagavad Gita. She teaches through her online wisdom campus, headquartered in Northern California, and offers Vedic spiritual study, ayurveda, and yoga programs to a vast community of spirituality and wellness seekers worldwide. Shunya makes ancient scriptural wisdom accessible and applicable to modern lives and western minds. She believes that the ideal of dharma is lodged within each human heart, but to discover it, cherish it, value it, and live by its supreme guidance is the divine task of each embodied soul to unearth. AcharyaShunya.com
Program Format
This is a live, interactive online program that will also be recorded. Our goal is to send recordings to you within two business days, often sooner. Recordings will be available for on-demand viewing for two weeks following the date of the final class.
Software Platform
Zoom for Windows, Mac, or mobile device; minimum recommended network bandwidth 1.5 Mbps. Please download Zoom for free at zoom.us/download, and test your connection at zoom.us/test. New to Zoom? Check out www.theosophical.org/FAQ. Please email webinars@theosophical.org for further information.