Saturday, October 7, 1:00 - 3:00 p.m. CT
Sliding scale contribution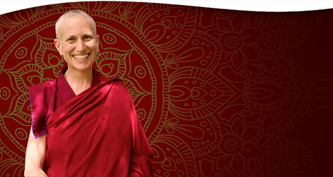 An open heart is the dwelling place of compassion that extends toward all beings; a clear mind is the source of the penetrating wisdom of deep insight. Their union leads to the enlightened way of life that is at the heart of the spiritual path as taught by the Buddha.
Join Venerable Thubten Chodron, an American Buddhist nun, as she offers an accessible introduction to the Buddha's teachings and the application of Buddhist psychology to modern life. In a straightforward style and with warmth and humor, Chodron presents essential teachings for understanding ourselves and improving the quality of our lives. She shares fundamental insights and practices that will help us transform habitual attitudes, so that we may realize our full human potential. We can all learn to live with an Open Heart and Clear Mind.
This workshop will include teaching, time for Q&A, and guided meditation.
Registration includes on-demand access to a recording of the workshop, which can be viewed for two weeks following the date it was presented.
Contributions appreciated. Your contribution will help support Venerable Thubten Chodron and make programs such as this possible for the benefit of all spiritual seekers.

Venerable Thubten Chodron is an author, teacher, and the founder and abbess of Sravasti Abbey, a pioneering Tibetan Buddhist training monastery for Western nuns and monks in the US. She graduated from UCLA and did graduate work in education at USC. Ordained as a Tibetan Buddhist nun in 1977, she has studied extensively with His Holiness the Dalai Lama, Tsenzhap Serkong Rinpoche, and other Tibetan lamas. She received full ordination as a bhikshuni in 1986. Venerable Chodron teaches worldwide and is known for her warm, practical, and humorous explanations of how to apply Buddhist teachings in daily life. She is also involved in prison outreach and interfaith dialogue. She has published many books on Buddhist philosophy and meditation and is currently assisting His Holiness the Dalai Lama in the writing and publication of The Library of Wisdom and Compassion, a multi-volume series of teachings on the Buddhist path. Visit thubtenchodron.org for a media library of her teachings, and sravastiabbey.org to learn more about Sravasti Abbey.
Program Format
This is a live, interactive online program that will also be recorded. Our goal is to send the recording to you within two business days, often sooner. The recording will be available for on-demand viewing for two weeks following the program date.
Software Platform
Zoom for Windows, Mac, or mobile device; minimum recommended network bandwidth 1.5 Mbps. Please download Zoom for free at zoom.us/download, and test your connection at zoom.us/test. New to Zoom? Check out www.theosophical.org/FAQ. Please email webinars@theosophical.org for further information.