Online study group devoted to work on self-awareness based on the practical teachings of Sri Nisargadatta Maharaj.
Mondays, 12:30-1:45 p.m. CST
Co-facilitated by Pablo Sender and Ed Moskowitz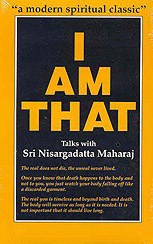 The primary purpose of this Study Group is to support our individual efforts to be in the continual state of self-awareness or mindfulness or witnessing, the cornerstone of the practical teaching. Nisargadatta tells us: "There is such a way, open to all, on every level, in every walk of life. Everybody is aware of himself. The deepening and broadening of self-awareness is the royal way. Call it mindfulness, or witnessing, or just attention - it is for all. None is unripe for it and none can fail." (I Am That, Talk No. 67)
This study group, using Nisargadatta's exercises, provides an external will to do the work to undo our mis-education. We engage in weekly exercises/tasks of self-observation to enable us to be in the state of self-awareness, of mindfulness, of witnessing, and the discovery of who we really are.
Study group textbook: Nisargadatta, I Am That (Acorn Press) 2012. Available on Amazon or at a discount from the Quest Bookshop (800) 669-1571.