Saturday, May 6, 10:30 a.m. – 4:30 p.m.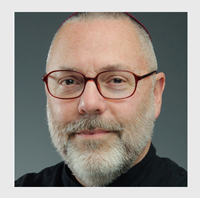 We are all born with the capacity to act with compassion, though we often lack the insight and will to do so. In this inspiring and practical exploration of the art of loving–kindness, Rabbi Rami will share the tools we need to realize the divinity of self and other, and to manifest godliness in our own lives. Drawing on the Thirteen Attributes of Loving–kindness articulated in the Book of Exodus and placing them in the context of inter–spirituality, we will explore teachings and practices from many of the world's religions: metta (Buddhist practice for cultivating compassion), shmirat halashon (Jewish practice for cultivating right speech), mantra (Hindu practice for shifting from self to Self), kenosis (Christian practice for self–emptying), and dhikr (Muslim practice for awakening in, with, and as God) as ways to cultivate compassion, grace, patience, and forgiveness.
Lunch on your own. Brownbag a vegetarian meal or join others at local restaurants.
Rabbi Rami Shapiro, Ph.D., is an award–winning author of over thirty books on religion and spirituality. A professor of religious studies, student of the Ramakrishna Order of Vedanta Hinduism, and a congregational rabbi, Rabbi Rami currently directs the One River Foundation for the study of Perennial Wisdom and heads its World Wisdom Bible project. He also writes the "Roadside Assistance for the Spiritual Traveler" column for Spirituality and Health magazine, and hosts the magazine's weekly podcast, Essential Conversations with Rabbi Rami (www.spiritualityhealth.com). Contact him through his website: oneriverfoundation.org.
$70 nonmembers $60 members $80 at the door
Don't miss Rabbi Rami's talk "The Need for Perennial Wisdom in Today's World" on May 4.