Saturday, June 3, 10:30 a.m. – 4:30 p.m.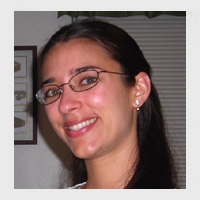 The overloaded and polluted stimulation of our modern world can leave us feeling spiritually empty. However, we can awaken to beauty when we use our senses to explore our relationship with nature. By skillfully opening our spiritual and physical senses, we develop a deeper awareness of our connection with the whole of Life. During this experiential day filled with thoughtful interaction, artistic expression, meditation, and an outdoor immersion in nature, we will rediscover how to live Soulfully.
Please bring a vegetarian dish/snack to share for a communal "potluck picnic" lunch (outdoors, weather permitting).
Danelys Valcarcel Cuellar, a Cuban-born artist, is a student of Theosophy, Anthroposophy, and Hindu philosophy who has dedicated the past thirteen years of her life researching the field of spiritual education. Currently working at the headquarters of the Theosophical Society in America, Danelys is also a Montessori, Waldorf, and Krishnamurti teacher.
$60 nonmembers $50 members $70 at the door
Don't miss Danelys' talk "Spiritual Ecology" on June 1.