Saturday, October 21
5:00 – 6:30 p.m. Traditional Turkish Dinner (vegetarian)
7:00 – 9:00 p.m. Concert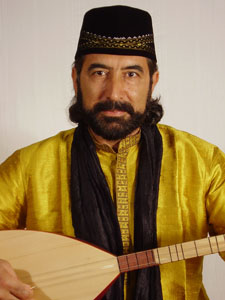 Art, music, and poetry reveal the depth of our feelings and experiences, uniting all people. We invite you to share in this wonderful immersion of Turkish food, music and culture.
A tasty traditional Turkish cuisine provided by the Turkish American Society will be served before the concert. Following, Latif Bolat will give a full concert with Turkish Sufi music, poetry, and stories. He will perform as a singer and accompany himself on traditional Turkish instruments.
Poetry from 13th century mystics Rumi and Yunus Emre will also be recited. Pictures of the Turkish countryside, cities, artwork, architecture, and people help create an immersive cultural experience that enables a deeper understanding of Turkish culture.
Latif Bolat is one of the most distinguished Turkish musicians outside of Turkey. He has played across continents and has composed soundtrack music for a television series and PBS documentary. With a vast repertoire that includes songs in classical, folk and Sufi mystic music styles, and specializing in the ancient Turkish mystic-devotional music genre, Latif Bolat provides a unique philosophy and approach to the performance of traditional music.
$40 nonmembers $35 members $50 at the door
Concert only: $25 pre-registered $30 at the door