Saturday, November 18, 10:30 a.m. – 4:00 p.m.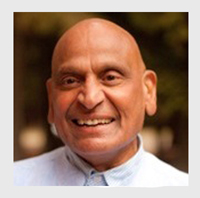 Explore the various yogas in the Bhagavad Gita, a classic of Yoga. Krishna, who reveals himself as an incarnation of the Highest Divinity, teaches a variety of yogas under the general canopy of Buddhi Yoga, the Yoga of Awareness. You are invited to take your essential inner being seriously, move towards breaking bonds with suffering, and gradually realize your oneness with the essential being of Krishna Himself. The workshop will begin with a directed meditation.
Ravi Ravindra is an author and professor emeritus at Dalhousie University in Halifax, Nova Scotia. A lifetime member of the Theosophical Society, Ravi has taught many courses at Theosophical schools. He was a member of the Institute of Advanced Study in Princeton, a fellow of the Indian Institute of Advanced Study in Shimla, and the founding director of the Threshold Award for Integrative Knowledge. For more: www.ravindra.ca.
$60 nonmembers $50 members $70 at the door Lunch on your own.
Ravi Ravindra: Hear his talk "Wondering 'What am I?'" on November 16.