Thursday, December 21, 7:00 – 8:30 p.m.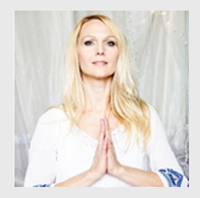 Delve inward for self-reflection, deeper understanding, and stillness as we approach the darkest point of the year. Let go of your worries and stress, and encourage resolution, repair, and repatterning at every level by participating in restorative mantras (chanting), mudras (gestures), and a variety of other meditation techniques. Take time for self-renewal to more fully enjoy the season. A perfect occasion to bring friends and family!
Samadhi Banks has been dedicated to holistic wellness, yoga and meditation for nearly 20 years. She brings her breadth of experience and dynamic teaching style to in-depth studies and teacher training programs in the philosophy and practices of Kundalini, classical yoga and meditation, Reiki, and crystal and gemstone therapy. She also offers The Indigo Project, a course for understanding and supporting the unique needs of today's children from an energetic and chakra-based perspective.
$15 nonmembers 10 members $15 at the door
Samadhi Banks: Join her for an Autumnal Equinox workshop on September 22 and Enliven & Enlighten Every Day on November 11