Saturday, March 16, 1:00 – 4:00 p.m.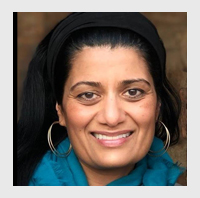 When you become stressed, are you restless, irritable, withdrawn – or maybe a combination of all three? How does your stress type present itself with illness? Discover your Ayurvedic mind-body stress type and learn how to mend your unique imbalances for a healthy, happy life. Dr. Gokani will share the food, herbs, teas, and essential oils that will help you achieve balance in your system. She will also reveal how the chakra energy system is linked to imbalanced brain patterns that perpetuate your imbalanced stress type. You will leave this workshop with practical tools to create a harmonious mind and body using ancient principles of healing and health.
Trupti Gokani, MD, is an award-winning, board-certified neurologist who has dedicated her life to developing a unique blend of modern medicine and ancient philosophy. She earned her medical degree from the University of Illinois at Chicago, where she also completed her training in neurology, was Chief Resident, and pursued additional post-doctoral training and certification as a Master Clinical Psychopharmacologist. She also has credentials in Ayurvedic medicine and transcendental meditation. Dr. Gokani lectures extensively and is a regular guest on The Dr. Oz Show. For more, visit www.truptigokanimd.com.
$30 nonmembers, $25 members, $35 at the door
Join Dr. Gokani, Thursday, March 14, for her lecture: Healing Headaches and Reducing Stress with Ancient Ayurvedic Medicine.