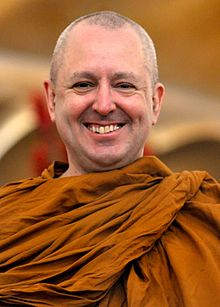 Ajahn Brahm is an internationally renowned Buddhist teacher and bestselling author. Born Peter Betts in London in 1951, he graduated from Cambridge University with a degree in theoretical physics, but, disillusioned with the life of academia, he headed off to the jungles of Thailand, where he trained under famed meditation master Ajahn Chah for nine years. A Theravada monk for over thirty-five years, Ajahn Brahm is a revered spiritual guide and the abbot of Bodhinyana Monastery in Western Australia and spiritual adviser and inspiration for Buddhist centers throughout Asia and Australia. He is known for his support for the revival of women's full ordination in Buddhism in traditions where it has been lost. His books are bestsellers in many languages and he regularly tours internationally. We are excited to welcome Ajahn Brahm for a public lecture and daylong meditation retreat as he tours the U.S.
Public Lecture:

Mindfulness, Bliss, and Beyond: Renowned Buddhist Monk Shares Wit and Wisdom
Wednesday, June 19, 7:00 – 9:30 p.m.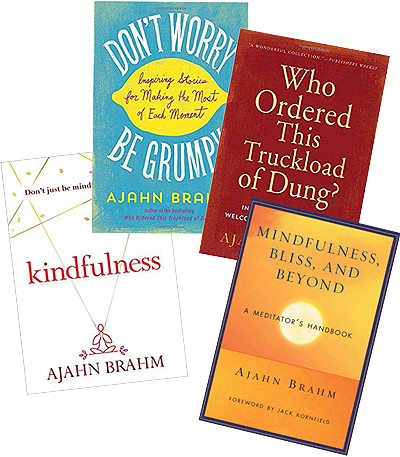 Join us for a unique opportunity to meet and hear the internationally acclaimed Buddhist teacher and meditation master Ajahn Brahm. Known for his wit and wisdom, Ajahn Brahm is the bestselling author of Mindfulness, Bliss, and Beyond; Don't Worry, Be Grumpy; Who Ordered this Truckload of Dung?; and Kindfulness. A self-described meditation junkie, Ajahn Brahm will share his knowledge and experience of the jhanas and insight, which constitute the heart of the Buddha's original teachings. Never before has this material been approached in such an empowering way by a teacher of such authority and popularity.
The event will include time for questions and discussion, and will conclude with a book signing.
$20 per person. Pre-registration is required for this event.
This event takes place at College of DuPage:
College of DuPage
Jack H. Turner Conference Center
Student Resource Center (SRC), Room 2000
425 Fawell Blvd.
Glen Ellyn, IL 60137
Meditation Retreat:
A Day of Meditation with Ajahn Brahm
Thursday, June 20, 9:00 a.m. – 5:00 p.m.
At the Theosophical Society
Take advantage of this rare opportunity to receive teachings and practice meditation under the guidance of the highly respected meditation master Venerable Ajahn Brahm. Set your worldly concerns aside for the day and be inspired by the joyful presence of Ajahn Brahm as he shares his profound knowledge of Buddhism and meditation. With his usual wit and wisdom, he will provide guidance that will help refine your meditation practice so that you may experience serenity and transformative insights. Topics to be explored include:
Cultivating mindfulness
The nature of concentration
The arising of Insight
The schedule for the day will include lectures, Q&A, and sitting and walking meditation sessions.
A vegetarian lunch will be provided.
$120 nonmembers, $100 members. Pre-registration is required for this event.