with Ravi Ravindra
Saturdays, 10:00 a.m. – 11:00 a.m. Central time
November 25 - December 16, 2017 (4 Classes)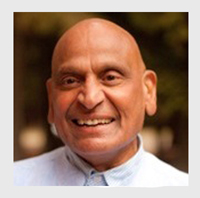 The state of being nourished by Truth or God is in essence transcultural and transreligious. All spiritual pilgrims begin from where they are, influenced by a particular culture and religious tradition even when they do not feel especially connected to it. There are many things in common in the two mainstreams of spirituality—the Biblical traditions including Judaism, Christianity and Islam, and the Indian traditions including Hinduism, Buddhism, Jainism and Sikhism—but there are some radical differences. How can we understand and reconcile these differences and be nourished by both great streams in our planetary culture?
It is recommended that participants read Ravindra's book The Pilgrim Soul: A Path to the Sacred Transcending World Religions (Quest Books, 2014).
Ravi Ravindra is an author and professor emeritus at Dalhousie University, in Halifax, Nova Scotia, where he served as professor in comparative religion, philosophy and physics. A lifetime member of the Theosophical Society, Ravi has taught many courses in The School of the Wisdom in Adyar and at the Krotona Institute in Ojai, Calif. He was a member of the Institute of Advanced Study in Princeton, a fellow of the Indian Institute of Advanced Study in Shimla, and the founding director of the Threshold Award for Integrative Knowledge. For more information visit www.ravindra.ca.
Registration includes access to recordings of all the classes.
$50 Nonmembers - $40 Members