Originally printed in the May - June 2004 issue of Quest magazine.
Citation: Abdill, Edward. "In Profound Gratitude." Quest 92.3 (MAY-JUNE 2004):88
By Edward Abdill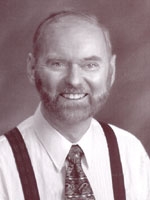 Perhaps we have all known someone who has helped us get through a difficult time. In our darker moments, the love of those close to us provides comfort and gives us strength. Most likely, we all remember those kind folks, and we are grateful to them for what they did for us.
Yet, as valuable as that is, there are a few people who have an awesome ability to inspire others at the very core of their being. Such inspiration is not personal. It is not given to cheer us up, although it does. It is not given to us because the person is our friend, although they are. It comes to us in the silence, beyond all the words that may help to convey it. It comes to us as a revelation, a sudden flash of understanding, and as deep joy.
Two such individuals have affected me in that way, Dora and Fritz Kunz. Two more dedicated Theosophists would be hard to locate. Dora and Fritz each had that near-sacred power to stimulate the Inner Self. They did it in very different ways.
Let me begin with Fritz.
It was my great privilege to work with Fritz for some years. His passion was to justify the Theosophical philosophy at the bar of modern, exact science. He attracted some of the great minds of his day and got them to write articles for the magazine he founded: Main Currents in Modern Thought.
Fritz was able to articulate the Theosophical metaphysics in such a way that by the sheer power of his understanding, those who listened thought they understood everything he said. They did not, of course. Yet, on leaving his presence, they knew that they had been subtly changed. They had become aware of a previously unknown depth within themselves.
For years I have pondered the ideas first expressed to me by Fritz. Years after his death, I have begun to understand some of them, and they have fired me to present them to others with the same fervor.
Dora Kunz inspired in a very different way.
Unlike Fritz, Dora had no great facility with language. In fact, she was sometimes dreadful at communicating what she wanted to say. She would seldom finish a sentence, often say the opposite of what she meant, and frequently make her audience collapse into laughter by using the wrong words. At the same time, Dora had an enormous vocabulary, and her lack of language skills did not block her great intelligence, practical knowledge, and wisdom.
Many know that Dora was the founder of Therapeutic Touch. She did a great deal to help those who were sick or disturbed. She must have helped thousands over the years, and no doubt those who received her help are grateful.
What many did not know about Dora is that she was a master at meditation. She began the practice when she was only five years old and continued it to her death at age ninety-five. She held a weekly meditation class at the New York Theosophical Society for many years. It was my great privilege to be part of that, and it was in that class that I learned to meditate.
When meditating with Dora, it was possible to become aware of a profound peace within. It would fade out of focus, but it would not be forgotten. While no one can awaken the Inner Self for us, Dora was able to stimulate that Self in those around her. Without words, she was able to give students a sense of direction, a sense of purpose, meaning, and finally a sense of the Eternal.
From Fritz I got a better understanding of this world and the full nature of a human being. From Dora, I was led to the experienceof the Inner Self. It seems to me that the only way one could ever repay a fellow pilgrim for such gifts is to follow in their steps. In that spirit, I can only hope that I might be able to pass on to others the impersonal gifts received from Fritz and Dora. That is the only gratitude they would want and the only gratitude worth having.