By Richard W. Brooks
Originally printed in the JULY-AUGUST 2007 issue of Quest magazine.
Citation: Brooks, Richard W."Reminscences of James Scudday Perkins." Quest 95.4 (JULY-AUGUST 2007): 127-128.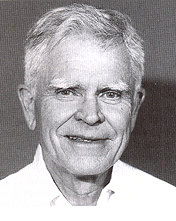 For most of his adult life, Jim Perkins, contributed in many different and significant ways to the administration of the Theosophical Society. Jim, as he was known to his theosophical family and friends, joined the Society in 1928 while practicing commercial art in Cincinnati and became a charter member of the Cincinnati Lodge. In addition to holding a number of local offices, including president of the Ohio Federation for five years, he was elected to the national board of directors of the Theosophical Society in America in 1936 and subsequently served as the American section's vice president from 1939 to 1945. On July 22, 1945, he succeeded Sidney A. Cook as president of the American Section, serving from 1945 to 1960.
In 1960, Jim was appointed international vice-president by then International President N. Sri Ram, who held the office until his death in 1973. From 1986 until his own demise, Jim served as President of Taormina, the Theosophical community in Ojai, California.
Raised in southern Louisiana, Jim had early aspirations of becoming an engineer. After graduating from high school, he enrolled in Cincinnati University to pursue his ambition, but a visit to the city's art museum caused a dramatic change in his career plans. Leaving the university after his first year, he began studying art, first at the Cincinnati Art Academy and later at the Art Students' League in New York City. Entering the field of commercial art, Jim further prepared himself as an illustrative painter with studies at New York's Grand Central School of Art. He subsequently returned to Cincinnati to work as a commercial artist.
Although he abandoned art as a career when he became president of the American section, he used his artistic talent to illustrate his major book on theosophy, Through Death to Rebirth (later completely revised, without illustrations, as Experiencing Reincarnation).
I met Jim and his lovely wife Katherine on my first visit to Olcott in 1954 while on a military leave from the U. S. Navy. Over time, I had the opportunity to know the Perkins better, first during a year I spent on the Olcott staff in 1955 and 1956 and later, at Adyar, during my Fulbright Grant to India in 1965—66. One of my lasting memories of Jim was hearing him as he walked to his office, striding down the carpeted hall at Olcott from his room on the second floor with strong, measured steps.
Despite his artistic abilities—usually associated in theosophical literature with a person of the Fourth Ray—Jim had definite First Ray qualities as well. I remember when he gathered all the Olcott staff in the building's living room and led us in hymn singing, probably a heritage from his early Southern Baptist upbringing, accompanying us on the piano. Another of my fond memories of Jim is listening to his lectures, especially when he would depart from his notes and speak extemporaneously. On those occasions, I felt, as I expressed it to myself at the time, "he could bring the buddhic plane down to the physical and wrap it around your ears."
One more delightful memory was during one of the Summer Sessions held at Olcott when I was in charge of the refreshment tent and constantly on the move to see that supplies were kept up. I happened to be standing at the back of the main tent, which had been raised on the tennis court, while Jim was thanking various people for their contribution to the success of the Convention and Summer School. He spotted me and, not remembering my first name, said, "And I want to thank Running Brooks for his work in the refreshment tent."
Assuming the office of president of the American section in 1945, he formed six committees to assist in the growth of the section: Field Technique, Publicity Pamphlets, Public Classes, Worker Training, Integration, and Headquarters Expansion. He also transformed the Publicity Department into the Department of Information, under the direction of Joy Mills, and initiated a small leaflet called Discovery. It contained a brief theosophical treatise and individual lodges and study centers could use its blank fourth page to publicize their own programs. Although Discovery was discontinued after about ten years, during its existence, its total circulation probably reached over a million copies.
In 1946, he inaugurated the "Spotlight" program. "Spot" was an acronym for "Speed the Popularization of Theosophy." Among the members who participated in this effort were Jim's wife, Katherine, Joy Mills, Alan Hooker, Nedra Ruder (later my wife), and Iris White. When Joy became president, "Spotlight" was renamed the Field Expansion Program and was for many years thereafter conducted mainly by Felix and Eunice Layton, and subsequently by Mattie Louise Gebhart. The efforts of these various members resulted in a considerable increase in the membership of the American section as well as in the formation of several new lodges and study centers and the strengthening of existing groups. One of the Laytons' talks I attended in downtown Detroit drew over 1000 people!
In 1947, as a result of a generous bequest from Herbert A. Kern, a successful businessman, the series of paperbacks, later called Quest Books, was launched. The first title was a reprint of The Essential Unity of All Religions, written by Bhagavan Das in 1932. In 1949, Jim inaugurated "Radio Theosophy," an idea originally proposed in 1923 by American section president at the time, L. W. Rogers. This program, although small by modern broadcasting standards, still continues today, utilizing audio tapes of talks recorded at Olcott by a variety of different speakers.
Also in 1947, Jim established a Theosophical Scholarship Fund which financed trips to Adyar by Mrs. Ann Kerr (later Mrs. Ann Greene) in 1950 and by Mr. and Mrs. Norman Pearson in 1951. In the same year, he proposed a series of National Theosophical Conferences which were held in various cities between 1955 and 1962.
In 1950, to commemorate the seventy-fifth anniversary of the Society, he commissioned and designed a "Brotherhood Stamp" which was sold through the Theosophical Publishing House. American members affixed them to the backs of their letters like Easter Seals or wildlife stamps.
In 1952, Jim developed a "master plan" for the development and expansion of the American section headquarters. His vision was later realized with an addition to the Olcott Library, the construction of a separate Theosophical Publishing House building and its adjacent storage facility (not actually part of his original plan), and a series of garages for staff members' cars.
He also enhanced the grounds of the headquarters, commissioning a pond to the east of the main building, now affectionately, if somewhat flippantly, known as "Perkie's Puddle." However, his idea of a separate lecture hall, to be named Blavatsky Hall and situated on the hill sloping down to the pond, has not yet been realized.
Jim began a series of worker training seminars in 1954, an effort that continues today at Krotona, the theosophical center in Ojai, California. In 1955, with a generous bequest from little-known member Clarence Ohlendorf and additional financial help from Herbert Kern, Perkins established the Theosophical Investment Trust. The Trust continues to fund a variety of programs, now overseen by Herb Kern's son, John, an active TS member in the Chicago area. In 1960, Jim was succeeded as president by Dr. Henry Smith (1897—1979); under Jim's leadership, the American section membership had reached 4,565, its highest point since 1933!
It is easy to see, even in this brief summary of his accomplishments, that the American Section owes a deep debt of gratitude to James Scudday Perkins. As one of many who were fortunate enough to have known him, I am delighted to honor his memory by reminding us of his numerous and significant contributions to the Theosophical Society over his many years of service.
In addition to my personal memories, I am indebted to Joy Mills for information from her book 100 Years of Theosophy: a History of The Theosophical Society in America as well as James Scudday Perkins' book Through Death to Rebirth and its reprint Experiencing Reincarnation.
---
Richard Brooks is a retired professor and chair of the Department of Philosophy at Oakland University, Rochester, Michigan. As a theosophist of more than fifty years, he served on the National Board for many years. His specialties are logic, Indic and Chinese philosophy, and parapsychology.