1184 Route 11
Craryville, NY 12521
phone: 518-325-3583
e-mail: pumpkin@taconic.net
Web site: www.pumpkinhollow.org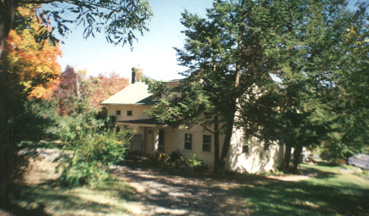 Pumpkin Hollow Retreat Center, the northeast Theosophical retreat center, was founded in 1937 to provide a peaceful and harmonious setting in which the essential spirituality of the individual can blossom and grow. Nestled amidst the Berkshire and Taconic Mountains, the Retreat Centercovers 130 acres of open fields, lush forests, flower beds, and an abundant vegetable garden nourished by the crystal clear Taconic Stream which flows through the property, rushing over a rocky waterfall and out through the base of a deep hemlock-lined gorge. Pumpkin Hollow offers a unique rustic setting for workshops, retreats, yoga, meditation, evening talks and campfires, singing, dancing, and storytelling. The central house, meditation center, and quaint cabins all connect with a network of nature trails. The Healer's Sanctuary, nestled in a pine grove on the other side of the stream, provides a special place for solitude and meditation.
Our 75th Anniversary 1937-2012
Housing
Shared accommodations are the rule rather than the exception. Single rooms are limited in number. When registering feel free to indicate your preference, but understand that rooms are assigned on a first-request basis.
Fees
Calendar of programs are on the website as well as registration information. Registration is online or via the mail. If there are- questions: please email or call the office. There is no hard copy brochure please check our website. We do an annual newsletter in March with news and previews of the coming year programs. Programs are added throughout the year.
If you would like to receive a copy of our brochure with the reservation form, write Pumpkin Hollow Retreat Center at the address avove or send email to pumpkin@taconic.net.
Sellon Charitable Trust Scholarships
Through the generosity of the John Sellon Trust, scholarship assistance is available for certain designated programs. See calendar and call for details.
Work Scholarships: A limited number of half-work scholarships are available. Upon application, individuals may be able to cover half of their room and board by helping in the kitchen, garden, office, or maintenance areas during the weekend.
Private retreats are an option on weekends and midweek; see the www.pumpkinhollow.org under Bring Your Group.
We need your help
Pumpkin Hollow Retreat Center is a nonprofit organization. We try to keep our fees low, and donations of all amounts are always welcome and needed. Even a few dollars can help us in defraying our mailing costs. All contributions are tax deductible.
Tell your friends!
The Pumpkin Hollow community grows primarily by word of mouth. Share your enthusiasm for the Retreat Center with like-minded friends; we love to see new faces.
Transportation
Pumpkin Hollow Retreat Center is located 125 miles north of New York City (2 1/2 hours by car), an hour south of Albany, 10 minutes from the Massachusetts border, and 150 miles west of Boston (3 hours by car).