Friday, January 12, 7:00 p.m.
$35 in advance $40 at the door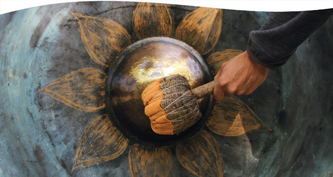 With a fresh start for 2024, "Beginnings" encapsulates the transformative essence of embarking on a journey toward inner peace and self-discovery. During this sound bath event, it becomes a resonant metaphor for the initiation of positive change. The immersive tones and vibrations serve as a sonic catalyst, encouraging participants to release stress and embrace a renewed sense of balance.
"Beginnings" invites attendees to let go of the past, welcoming a fresh start and aligning mind, body, and spirit in the frequencies of love and hope. Experience a guided meditation and subsequent harmonious sound bath generated by three large gongs, didgeridoo, flute, hand-pan, singing bowls, drums, and other sound tools, as a gateway to a phenomenological voyage into inner expansion.
Location: 1926 N. Main Street, Wheaton, IL

Gabriela and Marian Kraus provide a uniquely layered, multi-dimensional sonic tapestry designed to deeply relax and invigorate simultaneously. Participants are presented with an opportunity to lift their awareness about limiting beliefs and how to transform them. Both have studied gongs and sound therapy with renowned master teachers, and with their European and Latin American origins, possess a colorful life history. Their inherent artistic and musical abilities, years of studies in psychology, and metaphysics enhanced through experiences in health and wellness-related TV programs and international corporate settings work seamlessly together to facilitate a truly unique experience. Visit www.delamora.life for more information.