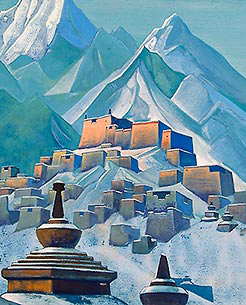 Masters, Gurus and Disciples
The Theosophical Society was the first organization in modern times to introduce the concept of the Masters of the Wisdom (also called Adepts or Mahatmas) to the West, which differs in very important aspects to the New Age idea of the Ascended Masters. Explore the Theosophical teachings about this very interesting and inspiring subject.
Note: The links are listed alphabetically by the author's name, and not according to any particular sequence.
1- Online Articles
The Mystic Path to Inner Peace by Ed Abdill
Working as Colleagues of the Masters by Ed Abdill
Masters and Gurus by Radha Burnier
The Perfected Ones by Clara Codd
Who Is The Teacher? by Joy Mills
How the Masters Know Truth by Shirley J. Nicholson
Mahatmas versus Ascended Masters by Pablo Sender
Who Are the Masters? An Interview with Joy Mills by Richard Smoley
2- Online Audios
The Adepts: Our Brothers by Ed Abdill
The Silent Master by Ed Abdill
Masters of the Wisdom by Dora Kunz
Krishnamurti on the Masters by Aryel Sanat
Is Discipleship Possible in the West? by L. Gordon Plummer
3- Online Videos
The Masters and Their Wisdom by Pablo Sender & Tim Boyd
4- Borrow from the H. S. Olcott Memorial Library

a) Books
Barker, A. T., compiler, The Mahatma Letters to A. P. Sinnett from the Mahatmas M. & K.H., c1993, 600 pages.
A classic of Theosophical literature, this book contains a series of letters written during the early years of the Theosophical Society by two Eastern sages, the Adepts known as Koot Hoomi and Morya who were Mme. Blavatsky's teachers. This edition arranges the letters in their chronological sequence.
T M277 ML Hao
Besant, Annie, The Masters, 1985, 54 pages.
Besant talks about perfected beings, the final products of human evolution, providing historical evidence of their existence and the testimony found in mythology and religion. She explains what the Masters are, where they live, their place in evolution, and their work.
T B463 M 1985 (Mini)
Besant, Annie, The Path of Discipleship, 1980, 153 pages.
Tracing the steps on the Path that leads to perfection, Besant begins with the daily life of the ordinary aspirant, explaining the moral and spiritual qualifications needed to become a disciple of a Master of Wisdom, and describing how the life of a disciple is lived.
T B463 PD
Codd, Clara, The Way of the Disciple, 1974, 322 pages.
A thorough presentation of the "path of discipleship" according to theosophical literature, covering subjects like the nature of the Adept, preparation for the aspirant, and qualifications for initiation.
T C648 WOD
Collins, Mabel, Through the Gates of Gold, 1913, 124 pages.
The author portrays the journey of the aspirant on the way towards the Gates of Gold, illustrating the steps necessary to reach their threshold, and how going through them will lead to Reality.
T C692 TGG (Mini)
Hanson, Virginia, Masters and Men: The Human Story in the Mahatma Letters, c1980, 323 pages.
A story set in an historical framework dealing with real people and events that took place in the fascinating early years of the Theosophical Society, where letters from Mme. Blavatsky's Adept teachers were being received by some of its members.
T H198 MM
Jinarajadasa, C., The Divine Vision, 1973, 109 pages.
The fourth International President of the Theosophical Society conveys a lofty vision of man, the path he is traveling, and the goal which he will one day reach, where man can be a coworker in the evolutionary process, realizing his oneness with the whole of manifestation.
T J 564 DV
Jinarajadasa, C., compiler, The "K.H." Letters to C. W. Leadbeater, 1941, 109 pages.
Three letters the theosophical leader and occultist C. W. Leadbeater received from one of the Adepts or Mahatmas mentioned by Mme. Blavatsky, who then became his Master. Jinarajadasa provides the original script of the letters with valuable commentaries and notes.
T J564 KHL
Jinarajadasa, C., compiler, Letters from the Masters of the Wisdom: First and Second Series, 1926, 2 v.
A compilation of letters received from several Adepts to various members of the Theosophical Society, most of whom were disciples or in their probationary stage. Included are valuable notes to the letters explaining the historical context in which they were received.
T J564 LMW ser.1-2
Krishnamurti, J., Towards Discipleship, c1926, 106 pages.
A collection of informal addresses given in the summer of 1924 to some friends, aspirants for discipleship, Krishnamurti talks about the Masters and the Path that leads to them.
T K897 TD
Krishnamurti, J., The Path, 1930, 65 pages.
A poetic description of the spiritual journey of a soul seeking wisdom and truth, its attempts and failures, and the range of experiences it undergoes in successive lives until it finds the Masters of Wisdom and treads the Path of Initiation.
T K897 P (Mini)
Leadbeater, C. W., The Masters and the Path: An Abridgement, 1983, 249 pages.
Drawing from personal experiences, the teachings of religions, mystics, and saints, the author describes the personalities of the Masters, their homes, work, nature and powers. He also describes the various stages of the Path the aspirant must tread to reach them.
T L469 MP 1983
Linton, George E., Readers Guide to The Mahatma Letters to A. P. Sinnett, 1972, 308 pages.
A guide to clarifying the numerous references to persons, places and events mentioned in The Mahatma Letters to A. P. Sinnett, thus facilitating the study of the profound philosophy contained in them.
T M277 MLz Lin

b) Audios
Codd, Clara, The Path to the Masters of Wisdom, CDA 0199
Hanson, Virginia, An Introduction to the Study of the Mahatma Letters, CDA 0235-4
Hodson, Geoffrey, Are there Perfected Men on Earth? New Age Discipleship, CDA 0217
Sanat, Aryel, Krishnamurti on the Masters, AR 5067