A Six-Part Live On-Demand Course with Mitch Horowitz
In this six-part course, acclaimed historian and esoteric thinker Mitch Horowitz ("solid gold"—David Lynch) explores the history, practice, theory, and purpose of magick. Mitch examines magick (using the early modern spelling) as a response to today's world and its potential promise and pitfalls. Methods and ideas are critically and practically considered.
Mitch augments each class with bonus readings and key terms. Every registrant receives a permanent link to make-up missed sessions or review favorites.

Course Syllabus:
1) A Brief History of Magick
Mitch defines and discusses concepts of magick from antiquity to today, and how magickal practice weaves in and out of both mainstream and esoteric traditions.
5) The Question of Divination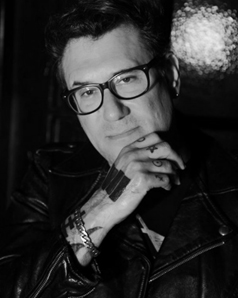 Mitch Horowitz is a historian of alternative spirituality and one of today's most literate voices of esoterica, mysticism, and the occult. He is among the few occult writers whose work touches the bases of academic scholarship, national journalism, and subculture cred. Mitch is a writer-in-residence at the New York Public Library, lecturer-in-residence at the Philosophical Research Society in Los Angeles, and a PEN Award-winning historian whose books include Occult America; One Simple Idea; The Miracle Club; and the forthcoming Daydream Believer. The Washington Post says Mitch "treats esoteric ideas and movements with an even-handed intellectual studiousness that is too often lost in today's raised-voice discussions." He has discussed alternative spirituality across the national media and collaborated with Emmy-nominated director Ronni Thomas on the feature documentary The Kybalion, shot on location in Egypt. Mitch's books have appeared in Arabic, Korean, Portuguese, Italian, Spanish, and Chinese. He received the Walden Award for Interfaith/Intercultural Understanding. The Chinese government has censored his work. Visit him at MitchHorowitz.com .
---
Program Format
This is a live, interactive online program that will also be recorded for on-demand viewing. Our goal is to send recordings to you within two business days, often sooner. All recordings will be available for streaming from the Zoom server through April 6, 2022. Thereafter the class recordings will be available on Vimeo.
Software Platform
Zoom for Windows, Mac, or mobile device; minimum recommended network bandwidth 1.5 Mbps. Please download Zoom for free at zoom.us/download, and test your connection at zoom.us/test. New to Zoom? Check out www.theosophical.org/FAQ. Please email webinars@theosophical.org for further information.