Meditation: A Practical Introduction
Tuesdays, 7:00 – 8:30 p.m., September 10 – October 29 (8 sessions)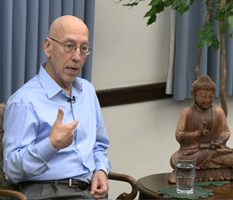 This course will give participants a comprehensive overview of both the theory and practice of meditation in plain English. The course is based on the material in The Meditative Path which is included with registration. It offers a systematic exploration of meditation beginning with relaxation of the body and mindfulness of breathing to cultivate greater awareness, concentration, and serenity. We continue by broadening the scope of our practice by cultivating mindfulness in daily activities and begin to investigate our inner world of emotions and mental states. It is a process that leads to insight, understanding, and the ability to free ourselves from stress, worry, and other negative tendencies. Each week will include a period of guided meditation.
John Cianciosi, a student of the late Venerable Ajahn Chah, was ordained a Buddhist monk in 1972 and served as spiritual director of monasteries in Thailand and Australia. He is author of The Meditative Path and is currently the director of public programs at the Theosophical Society.
Pre-registration is required.
TS members: $75 • Nonmembers: $85 (includes copy of The Meditative Path)
---