Boost Your Immunity with Ayurveda  - Online Only
Thursday, June 25, 7:00 p.m. CDT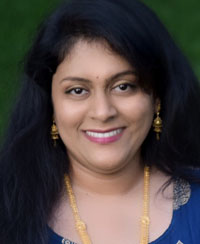 Ayurveda, India's ancient system of healing, defines good health not by the absence of disease, but by the presence of physical, mental, and spiritual wellness. It views health through the patient's physical, emotional, mental, social, spiritual, and environmental influences.
During this lecture, learn:
1. How you can strengthen and support your immunity with the profound wisdom of Ayurveda
2. How we can use nutrition and lifestyle to cultivate a strong immune system that will increase vitality, energy and overall health and balance
3. Basic healthy recipes and herb recommendations
Join Dr. Swati Mhaske for tips that can be easily incorporated into your life, yet will make a big difference to your health.
Swati Mhaske, BA, MS, MSc, Pharm, is an Ayurveda physician with a Bachelor degree in Ayurveda Medicine and Surgery and a Masters in Pharmaceutical Medicine from India. She also has extensive hands-on training in Panchakarma (detoxification and body cleanse procedures) and offers one-on-one Ayurvedic and Panchakarma consultations in treating lifestyle disorders, hormonal imbalances, fertility issues and other health imbalances in adults and children at her company HemaVeda in Crystal Lake, IL. For more visit www.hemaveda.com
This program will be presented as a special, no-audience webcast. To participate, visit our webcast page, YouTube channel or Facebook page and watch via live stream.
---